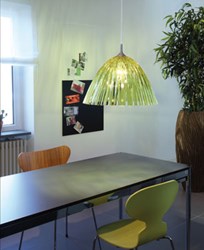 Lighting gets used less in spring and summer than in the winter months, which is understandable ... But that doesn't mean lighting shouldn't play a part in making a room look brighter.
(PRWEB) March 17, 2013
Bright colour schemes and spring themes are heavily on trend for household and living accessories this March. Perhaps homes need a more cheerful atmosphere due to economic issues and higher stresses, but whatever the reason, greens and yellows are very much in fashion. And in spring, people tend to start thinking of ways to freshen up the home, so Contemporary Heaven has compiled a few ideas.
Lighting gets used less in spring and summer than in the winter months, which is understandable since the evenings remain lighter for longer. But that doesn't mean lighting shouldn't play a part in making a room look brighter. There are many pendant ceiling lights available at Contemporary Heaven and some of these are ideal for both practical and aesthetic requirements. The Kartell E Pendant Light for instance is a small light with a transparent shade. The green and yellow versions would make a room feel sunny and fresh, especially if multiple lights were used to create a display. Mixing the two colours together is an excellent recipe for an interesting and visually invigorating lighting display. Or there is also the Kartell Fly ceiling lamp which is available in a variety of colours, including a very sunny yellow. The giant transparent shade looks simply uplifting in yellow and brightens up a whole room with ease. Looking fantastic during the day and subtly warming the lamp light at night, Fly in yellow is a vivid and bright addition to the living area.
In addition to these Kartell lights, there are also the Koziol Reed and Stella pendant lights, the latter of which is available in three sizes. These lights are available in a very fresh-looking shade of green and the transparent acrylic shades look amazing, reflecting daylight or enhancing the light from a bulb. Reed comes in two shades of green and has a very tropical atmosphere due to the natural plant inspiration. Stella has a textured shade which looks amazing night or day, causing beautiful light play with any available light.
Another colourful lighting option from Koziol is the Roxanne Pendant Ceiling Light, which is also available in green as well as yellow. The shade is semi-transparent and has slim elongated slits to allow light through in an interesting pattern. Whether green or yellow is chosen, Roxanne would freshen and brighten a room and works best in rooms with high ceilings.
Table lighting is also beneficial and much more useful in spring. With the lighter evenings, it may be desirable to leave main room lights switched off for longer and that's where table lights come in handy. If only small amounts of light are required, there are some very colourful table lights available at Contemporary Heaven that would be ideal. One of these is the Mood Table Light from Koziol, which is available in a choice of eight colours. It is also available in green and has a very funky and decorative appearance even when switched off. Another option would be the Take Table Lamp from Kartell, which completely reinterprets the traditional design of a table lamp for a quirky and bright appearance. Also available in a range of colours, Take looks bright and sunny in transparent yellow.
About the Company
Contemporary Heaven is a Hertfordshire based retailer and manufacturer with online outlets in the UK, Holland, France, Germany, Poland and the US. They are a subsidiary of Roco Verre LTD which has been in existence for more than 15 years, supplying a range of home accessories to retailers, businesses and individuals. Their range of home accessories includes modern clocks, custom time zone clocks, personalised school clocks, coasters and placemats, unusual wall mirrors, storage solutions, contemporary lighting, bathroom accessories, barware and much more.
For more information, visit http://www.contemporaryheaven.com.
Contact Details:
Roco Verre Ltd
Contemporary Heaven Division
68 Wilbury Way
Hitchin
Herts
Ph.: 44 (0)1462 451199