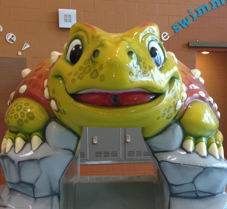 It's a fun slide! I even I slid down it. It's a short slide but you can get some speed on it because water squirts out of the toad's mouth as you're sliding down.
Phoenix, AZ (PRWEB) March 20, 2013
The Phoenix South Mountain Kroc Center recently opened to serve one of Phoenix's most underserved communities. As one of 30 Kroc Centers opening nationwide thanks to a gift of $1.5 billion from Ray and Joan Kroc, the South Mountain Kroc Center provides amenities, including a pool with a toddler slide, that many of the people could not access anywhere else by offering low membership rates and scholarships.
In the center's pool, there is a popular toddler slide in the shape of a giant toad, complete with water squirting out of its mouth. The slide was created by PLAYTIME, LLC.
"The water slide is great because it looks shiny and hard but it's soft, so it's safe," says Tyler Glanzer, Aquatics Coordinator. "If a child bumps their head on it, it doesn't hurt."
According to Marketing Manager Ernie Prukner, the Kroc Center offers sports and fitness programs for youths, adults and seniors, including a gym, cardio equipment, aerobics, martial arts and more. There's also a full aquatics center with fitness and certification programs, family and community education programs, arts and culture opportunities, summer camps, holiday events and even meeting room facilities.
In the Phoenix Kroc's aquatics area, Glanzer says the toddler slide, which was designed and manufactured by PLAYTIME, LLC, is a big crowd-pleaser. The slide looks like a big toad sitting on a rock.
"It's a fun slide!" he says. "I even I slid down it. It's a short slide but you can get some speed on it because water squirts out of the toad's mouth as you're sliding down."
Best of all, says Glanzer, the slide is safe.
"The trend in aquatics today is all about safety," he says. "This is a fun, safe slide."
As with all Kroc Centers, the Phoenix facility has a special story to tell.
Funded by Ray and Joan Kroc, founders of the McDonald's corporation, Kroc Centers are springing up across the country in underserved and underprivileged communities. Thanks to a $1.5 billion gift provided by Joan Kroc upon her death in 2004, the Salvation Army has committed to building up to 30 Kroc Centers nationwide.
Prukner says that the Phoenix center strives to continue its commitment to build a community of hope by providing opportunities for personal discovery, growth and service through the arts, education, recreation, wellness and spiritual guidance by nurturing the whole person – body, spirit and mind.
PLAYTIME is the global provider of unique, interactive, soft play areas and playground equipment for indoor, outdoor and water play. PLAYTIME's themed soft play areas drive traffic and enhance customers' brands. Thousands of families experience PLAYTIME every day at shopping centers, restaurants, airports, stadiums, childcare, healthcare centers, fitness centers, churches, resorts, recreation centers, water parks and museums – any place that kids play.