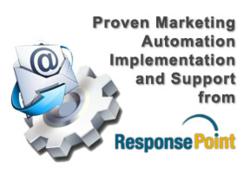 Having past experience with marketing automation solutions makes implementation and support easier and less expensive.
Raleigh, NC (PRWEB) March 19, 2013
ResponsePoint (http://www.ResponsePoint.com), a Raleigh, North Carolina based marketing agency specializing in Business-to-Business (B2B) lead generation solutions has announced the availability of a new Quick Start program designed to shorten the implementation and increase the return-on-investment of a marketing automation solution.
The program works by leveraging ResponsePoint's in-depth experience gained implementing and managing a variety of automation systems for clients. This enables them to streamline the entire implementation process, quickly setup more advanced features and more thoroughly integrate the systems with new and existing lead generation campaigns.
"Just like any other software implementation, having prior knowledge and experience is advantageous," says Brian Gossett, CEO of ResponsePoint. "Our team has done dozens of these implementations and worked with a variety of marketing automation products, so we know the ins-and-outs of tools and more importantly, how to get the most out of them."
ResponsePoint's Quick Start Program for Marketing Automation Implementation and Support focuses on maximizing the core features of the customers preferred automation solution. They then provide the necessary client training and support to create a long-term sustainable lead generation program. The basic package includes:

Establishing lead scoring logic
Building automated drip programs
Integrating advanced lead nurturing processes
Managing and securing marketing assets
Creating a database structure
Developing templates for emails, forms and landing pages
CRM Integration (Salesforce.com, SugarCRM, Netsuite, Microsoft Dynamics, etc.)
Implementing website and user tracking and reporting
"The learning curve with marketing automation can be pretty steep," continues Brian. "Getting the most from even the basic functionality takes a level of expertise and familiarity not readily available, at even very large companies. Our familiarity with these solutions makes it possible to shorten the implementation process and begin benefiting from the advantages of marketing automation much sooner than if a client tries to set it up on their own."
Another advantage of ResponsePoint's service is the ability for clients to evaluate solutions in real-life situations. This risk free way to evaluate the features and functions of different marketing automation solutions can be a huge bonus for companies still trying to determine if marketing automation is right for them.
For more information about how ResponsePoint can simplify your marketing automation implementation or improve its performance, visit http://www.responsepoint.com or call 800-990-0725.
About ResponsePoint
ResponsePoint builds efficient and effective B2B lead generation solutions. Our process centered approach to lead generation improves your ability to produce better quality leads, consistently over time. This starts with developing a strategy that aligns your objectives with the right target audience and the perfect mix of marketing communications. We then use our experience to apply proven marketing processes and technologies that simplify program management, measurement and sustainability for long after our initial engagement is over. ResponsePoint's headquarters is just outside the Research Triangle Park area of North Carolina.