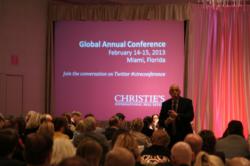 Naples, FL (PRWEB) March 19, 2013
Naples Estate Properties recently joined other luxury real estate specialists from Christie's International Real Estate, the world's leading luxury real estate network, at the Global Annual Conference at the Fontainebleau Hotel in Miami Beach. The invitation-only conference attracted more than 150 luxury real estate brokers/owners from 27 countries including Brazil, United Kingdom, Switzerland, Hong Kong, Australia, Dominican Republic, and South Africa.
"I am very pleased that the Naples Estate Properties Agents were able to join other leading luxury real estate professionals from across the globe at our conference in Miami," says Bonnie Stone Sellers, Chief Executive Officer of Christie's International Real Estate. "The conference provided fresh insights about the luxury residential market, the time to interact one-on-one with colleagues from around the globe, the opportunity to garner powerful brand strategies, as well as the chance to celebrate this past year's successes as a team."
Guest speaker Stuart Schweitzer, Vice Chairman and Global Markets Strategist from J.P. Morgan, addressed the state of the international economic environment focusing on global shifts of wealth concentration. Paul Whalen, from esteemed architectural firm Robert A.M. Stern Architects, spoke about the latest architectural trends and shared his perspective on what buyers want today and tomorrow.
The agenda included 2013 strategies, global tour of new affiliates, success of Art Miami and Art Wynwood sponsorships, and a preview of the Christie's International Real Estate report, Luxury Defined: An Insight Into The Luxury Residential Real Estate Market, a research paper discussing the state of the luxury international real estate market.
Christie's International Real Estate is an invitation-only affiliate network composed of the world's most proven real estate specialists in the luxury residential sector. The company has offices in London, New York, Hong Kong, Beverly Hills, Chicago, and Palm Beach; approximately 125 global affiliates in 41 countries.
For more information on Naples Estate Properties' available properties or their vast global marketing please contact (239) 262.0022 or visit http://www.naplesestateproperties.com