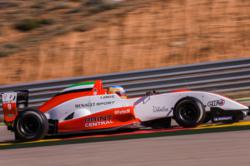 The way he handles himself both on and off circuit is a sponsors dream - he drives incredibly (demonstrated through his win at Jerez a fortnight or so ago in F3) and he is damn good looking to match.
London (PRWEB UK) 16 March 2013
Based in Northamptonshire, Distinctive have shown a keen interest in working closely with Ed Jones to help promote their unique brand of washing powder. Specifically designed for men, the washing powder contains amber and sandalwood scents widely known as a 'seductive' combination. The powder is marketed as 'body-heat sensitive' making it seemingly appropriate to be involved in racing due to the length of time drivers are in the car and how hot and sweaty they can get.
Just starting out in his first full season of FR2.0 Eurocup with Fortec Motorsports and F3 Open with West-Tec, Jones is looking forward to working with his new sponsor. Commenting on the deal Jones said: "I am very pleased to be associated and working with Distinctive washing powder this season and hope we can create a strong relationship that will carry on throughout the rest of my racing career. The brand is relatively new and our aim is to help it gain the exposure it deserves."
With previous tests on race wear, Louise Knowler of 'Distinctive' commented: "We were heavily tested for washing race wear with the 'deaf karting team' in the early stages, because of my love of the sport and because I knew it would be a good test of the powders cleaning prowess. It was a good fabric to test on, because race wear comprises special fibres which include a proportion of elasticity which some cleaning agents do not handle well. Racing drivers also get particularly hot and sweaty and we found it washed as effectively at 30 degrees on race wear, as it does on a designer label shirt. What's more, the base notes, particularly the sandalwood in our fragrance seems to get better, the hotter the fabric gets, so skin contact or the sun brings out the best fragrance."
With a lot of plans for the coming season the team at 'Distinctive' are looking forward to promoting their brand through an up and coming star. The way he handles himself both on and off circuit is a sponsors dream - he drives incredibly (demonstrated through his win at Jerez a fortnight or so ago in F3) and he is damn good looking to match. What's not to like from a sponsors point of view? He is very likely to be going places, and will soon be attracting the likes of much bigger sponsors and brands. We kind of hope he likes the term we've given him too... 'Distinctive Ed Jones.'