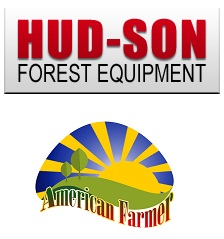 Barneveld, NY (PRWEB) March 14, 2013
Hud-Son Forest Equipment announced today they will be featured in an upcoming episode of American Farmer airing later this year on RFD-TV.
Established in 1946, by Oscar Hudon this third-generation family owned and operated company has evolved into a worldwide manufacturer and distributor of forestry equipment, with a network of servicing dealers. Hud-Son Forest Equipment is constantly exploring the latest advancements in machinery for the agriculture industry, while continuing to serve a diverse clientele.
Hud-Son Forest Equipment produces quality equipment for the hobbyist who prefers to do the job himself from start to finish, as well the professional sawyer and logger. "When you look at our equipment, you will see years of development, testing and hands on knowledge. These key factors have shaped our product line and maintained our reputation for value and excellence in the forest industry," said Dan Hudon Jr., President of the company. "We hold great pride in the fact that our equipment is made in the USA. We employ over 50 full-time employees who are dedicated to making a quality product through hard work and perseverance. These are just a few of the reasons Hud-Son is proud to be featured on this episode of the American Farmer."
In this episode, American Farmer will explore how Hud-Son Forest Equipment manufactures equipment for a myriad of applications, from forestry to wood art and more. Audiences will be educated on the company's global presence, and how they continue to keep pace with technology by refining and updating their equipment for the manufacturing of portable sawmills, remote controlled winches, wood conveyors and more.
"Hud-Son Forest Equipment is composed of professional tree farming and agricultural forest land owners who use and understand the needs of the industry," said Charles Cowan, producer for American Farmer. "I'm excited to be able to share this information with our audience, and can't wait to see how everything comes together."
About Hud-Son Forest Equipment:
Dan Hudon Jr., the company president and a third generation Hudon, has grasped the many values that were passed on to him and these values continue to be the cornerstone of Hud-Son Forest Equipment today. In tribute to his Grandfather, the Oscar line of bandmills were named after him, and Hud-Son continues to carry on his commitment of hard work and quality. The name Hud-Son is derived from Hudon and Son.
For more information, visit: http://www.hud-son.com or call (800) 765-7297.
About American Farmer:
American Farmer is a breakthrough program on a mission to showcase the latest advancements in agriculture and farming. From seed to harvest, livestock and more, our producers have traveled the country covering the people, places and issues impacting all areas of farm country.
American Farmer airs Tuesdays at 8:30am EST on RFD-TV as well as Saturdays at 1:30pm and Midnight EST on RURAL-TV.
For more information visit: http://www.americanfarmertv.com or call (866) 496-4065.
Media Contact:
Charlie Cowan, Producer
(866) 496-4065 x 875
charlie(at)americanfarmertv(dot)com