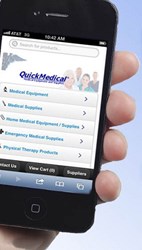 QuickMedical is as much about customer service as it is for low product pricing,
Issaquah, WA (PRWEB) March 14, 2013
QuickMedical and QuickMedical GS (aka Veteran Sales) have consolidated operations to provide enhanced service benefits to our Federal Government customers. QuickMedical GS is now a full division of QuickMedical.
"For seven years QuickMedical and QuickMedical GS have worked closely to provide our customers the best product offerings at competitive pricing," said Scott Hanna, QuickMedical CEO. "Now we have combined both companies to provide an even better level of service."
During the last year, QuickMedical diligently restructured its sales and marketing systems to leverage key strengths for their customers.
Robert Duffett, National Sales Director, and Tom Smith, Director of Government Affairs, tripled the front line sales staff to provide a customer with a quote in 24 hours or less.
"QuickMedical is as much about customer service as it is for low product pricing, we have over 11,000 items on multiple federal FSS/GSA contracts" added Hanna. "We are the Veteran Owned Small Business that tries harder to truly support veterans."
QuickMedical received approval to merge all Federal Supply Schedule (FSS) contracts into QuickMedical so it can provide even better support and pricing for Government customers.
With 200 vendors, a customer base of nearly 140,000, a full-time staff of over 40 employees, including sales staff, General Services Administration (GSA)/FSS Government sales, product management, marketing and multimedia (QTube) and an IT-Website development team, QuickMedical is much more than an on-line shopping mall.
QuickMedical offers over 36,000 products that fulfill the needs of military/government, GPO, hospitals, veterinary, dental and medical clinics, industry, home use, long-term/assisted living, and health clubs.
About QuickMedical:
Established in 1993, QuickMedical is a leader in the distribution and sale of medical supplies and equipment. With great pricing, same day shipping and a low price guarantee, QuickMedical has the professional medical equipment used by healthcare professionals, industry and home. Look for a complete line of diagnostic equipment, exam tables, weighing, measuring devices, and medical basics such as stethoscopes, thermometers, and sphygmomanometers.