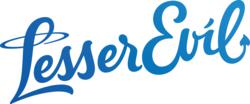 Wilton, CT (PRWEB) March 18, 2013
LesserEvil Healthy Brands, innovators of the healthy snack experience, bring the classic favorite Krinkle Stick snack to over 220ShopRite Supermarket locations in New Jersey, New York, Connecticut, Delaware, Pennsylvania, and Maryland.
"Our beloved Krinkle Sticks have always been a fan favorite and we couldn't be more pleased to see them on Shoprite shelves," says LesserEvil president and CEO Charles Coristine. "With all of our new product roll outs, we appreciate the continued success of a LesserEvil staple snack."
After the successful Kettle Corn line launch, LesserEvil expanded their brand with the Krinkle Sticks as a healthier approach to the traditional fried potato chip. The all natural, gluten-free puffed potato and vegetable snack sticks come in four classic flavors that include Sea Salt, Cheddar, Veggie, and Sour Cream and Onion.
"We believe that life is about balance, not perfection. Our mission is to fight bad snacking with a little goodness," says Coristine. "That exactly what the Krinkle Stick does. It provides a wholesome potato snack without sacrificing flavor."
About LesserEvil Healthy Brands
LesserEvil Healthy Brands is a snack food company founded in 2004 with the mission to create natural, healthier snack food than many other snack foods on the market. The company's award winning all-natural snacks are produced without trans fats, preservatives, artificial flavors and colors, high fructose syrup and gluten ingredients that many other snack products use. LesserEvil's snacks are full of flavor, and still gives people a sinfully delicious treat without the guilt. LesserEvil has innovated the snack industry with their LesserEvil solution. They believe that life is about balance, and they don't believe in being perfect. LesserEvil vows to continue its mission to fight bad snacking with a little goodness. Join them in their journey towards a LesserEvil life.