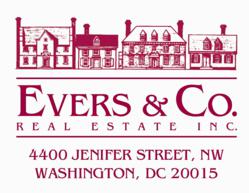 Washington, D.C. (PRWEB) March 14, 2013
There was no lull in the late winter months for the close-in Washington, D.C.-metro area residential real estate market, and veteran real estate broker Donna Evers says buyers and sellers should expect a similar pattern this spring. The dollar volume of sales for the close-in D.C.-metro area market in January and February was up almost 10 percent, while the average sales price was up 5 percent over February 2012 and the number of days on the market was down 22 percent compared to last February.
"The positive numbers we are seeing in the first two months of the year are showing continuing and steady improvements in the close-in D.C.-metro area housing market," says Evers, president and broker of Evers & Co. Real Estate. "As we transition from the winter to spring, the area's market is marching along at a brisk pace that will carry throughout the spring and the entire year in this increasingly popular and competitive market."
Even with the anticipated increase of properties coming onto the market during the traditionally busy spring months, Evers says there will still be more buyers than properties for sale in popular D.C.- metro area neighborhoods due to the low inventory throughout last year and more buyers.
"While there are going to be more properties coming onto the spring market, the wave of buyers is increasing with consumer confidence running very high and the continuing low interest rates," says Evers. "The listings are not going to outpace the number of buyers, and we are still going to have an inventory shortage all through the spring."
Evers stresses that buyers need to be prepared to move quickly in this very competitive sellers' market, with their financing approved and ready to make strong and attractive offers to sellers.

Statistics are taken from the Metropolitan Regional Information System for three areas: Washington, D.C.; Montgomery County in Maryland; and Fairfax County, Arlington, Alexandria and Falls Church in Virginia.
About Evers & Co.
Founded in 1985 by Donna Evers, Evers & Co. Real Estate, Inc. maintains its success through a strong referral base and agents who enjoy a premier reputation for their expertise and in-depth knowledge of Washington Metro Area homes and neighborhoods. Evers & Co. is home to 100 licensed real estate professionals with decades of combined experience, who enjoy access to a first-of-its-kind Agent Resource Center. The agency is the largest woman-owned and-operated residential real estate firm in the area and a member of Unique Homes Affiliate Network, Who's Who in Luxury Real Estate and FIABCI, the largest international real estate organization in the world. In addition, the agency has an alliance with My Home In Paris, a residential real estate firm in Paris, France. For more information about Evers & Co. Real Estate, visit http://www.eversco.com.
# # #