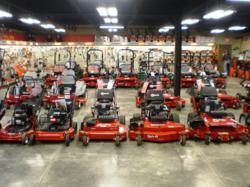 Chesterland, Ohio (PRWEB) March 15, 2013
The expanded showroom in Lyndhurst will allow customers to see more of the great equipment they love. Marshall Power Equipment now has the room to display more models to ensure customers find the right equipment for the job no matter how big or small. The increased space will accommodate the display of more hand tools, mower parts, and accessories for easer shopping.
Marshall Power Equipment in Chesterland has everyone talking about the new showroom. The amount of new equipment they are able to display is outrageous. Residential zero turn eXmark mowers to huge zero turn mowers for the commercial contractors. Toro 21 inch push mowers on a three tier display stand. Over 65 feet of power hand tools on display from Stihl Chainsaws to the fuel efficient BR 600 Magnum Backpack Blower.
The expansion of the parts room in Chesterland is something to see. The new enclosed structure features over 60 feet of hanging belts up to 9 feet in the air. The increased size will allow storage of more parts and accessories to insure the parts are intock when customers need them.
Family owned and operated, Marshall Power Equipment provides the best brands and second-to-none top notch service that is so hard to find these days! The Marshall people will continue to strive, pushing themselves to make the customers and service their "number one" priority into their next anniversary of 60 years in 2014.