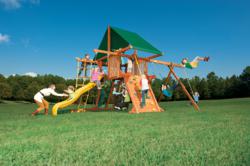 Raleigh, NC (PRWEB) March 20, 2013
Woodplay™ Playsets, makers of the original redwood playset, and providers of America's finest and safest outdoor swing and playsets since 1975, today announced that its swing sets are now made using certified lumber in accordance with the Forest Stewardship Council (FSC®) and Sustainable Forestry Initiative (SFI) forestry certification programs – a nonprofit setting the industry standard for practicing effective, responsibly managed and environmentally sound forestry.
Woodplay Playsets' lumber partner, The California Redwood Company (CRC) and Green Diamond Resource Company, have recently been recognized by the U.S. Fish and Wildlife Service for its sustainability practices. The U.S. Consumer Product Safety Commission (CPSC) recommends natural wood, like redwood, for outdoor playsets as it stays flat and straight with minimal warping, cupping or cracking. California-grown redwood is one of the fastest-growing timber species in the world. It is sustainable, strong, stable and resistant to insects and decay, requiring no dangerous chemical preservatives – unlike wood that undergoes pressure treating to artificially extend product life.
"We are pleased to announce that Woodplay Playsets are built using lumber that is certified sustainable," said Thomas Ellingson, product manager, Woodplay Playsets. "Our playsets have provided families with safe and fun outdoor play for almost 40 years. We are proud to offer our customers the highest quality playsets in accordance with the highest forestry standards in the world."
Made in the U.S.A., Woodplay Playsets offers one of the most environmentally sound wooden swing set choice on the market. Woodplay Playsets continues to set the standard for safety, by serving on the board of ASTM International, a leading standards organization whose guidelines for product materials and testing are recognized globally as an assurance of quality and safety. Utilizing its exclusive Triple Joint Construction, Woodplay Playsets are engineered to be the most solid playsets on the market.
Decades of research indicates that kids learn best through active, exploratory play. By taking turns on a slide, making friends on a swing set, negotiating rules and sharing space, kids hone their skills in problem solving, creative play and socializing – all while being active. Helping your child build strength, confidence and imagination in outdoor play, Woodplay Playsets are customizable and encourage exercise of the imagination as well as the muscles. Known for its Funnovation™ design options, Triple Joint Construction, larger beams and smart safety features, Woodplay Playsets offer endless combinations of customizable slides, playhouses, tunnels, and climbing surfaces to help kids get out and play.
For information on Woodplay Playsets, or to locate a local showroom, visit http://www.Swingsets.com or call 1-800-WOODPLAY.
About Escalade Sports
Headquartered in Evansville, IN, Escalade Sports is a global manufacturer and distributor of sporting goods and leisure time activity games. Leaders in their respective categories, Escalade Sports' brands include Stiga® and Ping-Pong® Table Tennis, Accudart® and Unicorn® darting, Goalrilla®, Goaliath® and Silverback® sports training equipment and residential in-ground basketball goal systems and Woodplay® and Childlife® premium playground play-sets. Escalade Sports products are available at sporting goods dealers and independent retailers nationwide. For more information on Escalade Sports, its brands, instruction manuals, game rules, retailers, warranty, replacement parts or customer service, please call 1-888-784-4288 or visit http://www.escaladesports.com.
# # #
For more information, please contact Brian M. Lowe/Laurie Pepitone of BML Public Relations – 973-337-6395