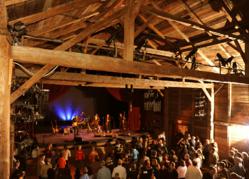 Vienna, VA (PRWEB) March 14, 2013
Al Di Meola
Gonzalo Rubalcaba
Wednesday, April 3 at 8 pm
Thursday, April 4 at 8 pm
$40
Al Di Meola
Guitar legend Al Di Meola performs a worldly, eclectic blend of rock, flamenco, Middle Eastern, Brazilian, and African music with jazz pianist Gonzalo Rubalcaba at The Barns at Wolf Trap. Over the course of his career, the New Jersey native has sold over six million records and released 21 solo albums. He has collaborated with acclaimed musicians such as John McLaughlin and Paco de Lucia from Super Guitar Trio and Stanley Clarke and Jean-Luc Ponty from Rite of Strings. Di Meola made it big in 1974 as a member of the jazz fusion band Return to Forever, contributing to the group's three-time GRAMMY-winning success for the albums Where Have I Known You Before (1974), No Mystery (1975), and Romantic Warrior (1976). He now alternates between performing solo and at the helm of acoustic ensemble World Sinfonia. Di Meola's most recent project with World Sinfonia was the 2011 release of Pursuit of Radical Rhapsody.
Video: Al Di Meola – Race with Devil on Spanish Highway
Gonzalo Rubalcaba
Cuban jazz pianist and composer Gonzalo Rubalcaba brings his Afro-Cuban influence and Old Havana sound to The Barns at Wolf Trap for the first time. Rubalcaba's industrious career has landed him 15 GRAMMY nominations and two GRAMMY Awards for his albums Nocturne (2001) and Land of the Sun (2004), both co-produced with bassist Charlie Haden. He is also the recipient of three Latin GRAMMY Awards for Solo (2006), Trio (2002), and Supernova (2002). In 2008, Rubalcaba was awarded the Vanguard Award by the American Society of Composers, Authors, and Publishers. His most recent album, XXI Century (2012), demonstrates Rubalcaba's versatile style as he reinterprets original jazz arrangements, improvising post-bop and Cuban elements. Outside of Rubalcaba's own recreations, the record features collaborations with bassist Matt Brewer and drummer Marcus Gilmore, along with other notable musicians.
Video: Gonzalo Rubalcaba – Improvisation No. 2
Peter Kolkay, bassoon
with Alexandra Nguyen, piano
and Deirdre Chadwick, oboe
The Discovery Series
Wolf Trap Debut Artist
Friday, April 5 at 8 pm
$35
Critically acclaimed bassoonist Peter Kolkay arrives at The Barns in his Wolf Trap debut. Deemed "stunningly virtuosic" by The New York Times, the Vanderbilt Blair School of Music associate professor of bassoon is considered a leader in his craft. Kolkay was the first bassoonist to win the Concert Artists Guild International Competition (2002), be awarded an Avery Fisher Career Grant (2004), and join the Chamber Music Society Two (2006). In addition to teaching, Kolkay regularly performs with the Chamber Music Society of Lincoln Center. He has appeared as a soloist with New York's Rochester and Westchester philharmonics, the South Carolina Philharmonic, and Michigan's Green Bay and Flint symphonies. Kolkay has premiered new works by renowned composers such as Katherine Hoover, Harold Meltzer, Russell Platt, Elliott Carter, Charles Wuorinen, and John Fitz Rogers.
For more details about this performance, see the latest press release on the 2013 Discovery Series.
HAPA
Saturday, April 6 at 7:30 pm
Sunday, April 7 at 7:30 pm
$25
Hawaiian folk-rock group HAPA brings their pan-Polynesian music and traditional hula dancing to The Barns at Wolf Trap for an evening of contemporary covers and old-world chants. HAPA has recreated U2's "In the Name of Love," John Lennon's "Imagine," and Bob Marley's "Redemption Song." Their signature instrumentation, which includes guitar, ukulele, bass, and vocals, has credited the ensemble with having the "Sound of Maui." Experiencing success from the beginning, HAPA's 1993 self-titled debut album won six Na Hoku Hanohano Awards, Hawaii's version of the GRAMMYs. The album reached record-breaking sales and remains one of Hawaii's most popular albums to date. The group has also taken part in film and television, appearing in Adam Sandler's film Just Go With It with Jennifer Aniston and in the CBS police drama Hawaii Five-O in 2011.
Video: HAPA – Redemption Song
Tickets can be purchased by calling 1(877) WOLFTRAP; or online at http://www.wolftrap.org.
For more information, call The Barns at Wolf Trap at (703) 938-2404 or our general information line at (703) 255-1900.
###