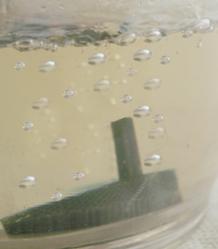 Hernon's HPS 80151, an impregnating resin, is an ideal solution for impregnating wood.
Sanford, Fl (PRWEB) March 14, 2013
Hernon Manufacturing, the innovator in adhesives, sealants and dispensing equipment, recently received a Letter of Intent from PlainStates Energy for its Hernon Porosity Sealant (HPS) 80151.
Having been sent a sample of Hernon Manfacturings' sealant to test on an application in the stabilizing industry, the customer, PlainStates Energy in return signed a Letter of Intent to purchase the impregnation resin.
"The experimental Hernon sealant you sent me to try, works great for my application in the stabilizing industry," said Jon Kennedy, Founder and Project Manager of Plain StatesEnergy. "I have found that with the Hernon sealant I get less bleed out when curing, very little smell, and better penetration than other sealants I have used over the last few years."
The LOI further indicated that Hernon's HPS 80151 is a" very good product" and that the customer would be promoting the product to his customers worldwide through his websites and other companies that he owns.
"As you can see, Hernon's Porosity Sealant 80151 is an ideal choice for many applications," said Director of Sales and Marketing for Hernon, Edgardo Rodrigues. "This particular customers' application is impregnating wood."
PlainStates Energy is a vertically integrated company that is actively engaged in the development and construction of small and medium sized wind and solar power systems in communities across Minnesota and the upper Midwest. The company incorporates a hands-on management style to bring through to operation energy projects that are either individually or jointly owned by financial partnerships between local communities, municipals, farmers, and landowners. For more information, visit http://plainstatesenergy.com.
HERNON Manufacturing has been committed to delivering world class adhesive, sealant, and impregnation solutions along with precision dispensing systems for nearly four decades. A long-time member of Central Florida's industrial manufacturing community, HERNON offers strong brands and technologies, all made in the United States, for a diverse range of industries including: Energy/Power Generation, Medical, Electronics, Electrical, LED, Automotive, Appliances, Sporting Goods, Ammunition, Communications, Aerospace, Aviation, High Tech Audio, Defense, Fire Suppression, Transportation, and Marine. HERNON Manufacturing is proud to be an ISO-9001 registered company whose products meet or exceed Mil-Specs. HERNON Manufacturing has been recognized as a top company in Orlando and is listed in the Orlando Business Journal's Book of Lists. The company also was awarded the 2012 ThinkGlobal Exporter of the Year, named one of Florida's Top Companies to Watch in 2012, and has received the 2012 William C. Schwartz Industry Innovation Award for its advanced process for ammunition sealants. Visit http://hernon.com for more information.