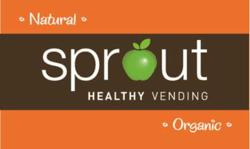 They were amazed that you can get San Pellegrino in a vending machine.
Irvine, CA (PRWEB) March 16, 2013
The Charleston School of Law students and faculty has gladly received the Sprout Healthy Vending machines placed throughout their campus by local owner and operator, Neil Holtzhausen.
With four machines on the campus, they can easily access a variety of healthy snacks and beverages. According to Holtzhausen, the most popular machine is located in the campus library among a few other vending machines with traditional, less-healthy snacks in them.
When choosing locations for his machines, Holtzhausen saw the Charleston School of Law (and its library) as a perfect location.
"The students and faculty seem to be pretty well educated on the importance of eating healthy foods. The library is open seven days a week and it has long hours. Students need to refuel when studying, and that's why it's important to provide nutritious snacks," Neil says.
Upon the arrival of the machines, Neil decided to host an informal sampling event, where he allowed students and faculty to try the snacks and drinks that would be offered in the Sprout machines.
"People were definitely receptive. They didn't know some of the snacks and products so it was a pretty good opportunity for them to try them. For example, they had never seen a Steaz drink before, and now I sell a lot of the Steaz Pomegranate Tea," explains Holtzhousen.
Neil's healthy vending business at Charleston School of Law took off immediately and has continued to be a success. Working independently, he maintains and refills his machines multiple times a week. In addition to the financial evidence of success, Neil has also received positive feedback from the school administration and the students, themselves. "The manager of the school's buildings sent me an e-mail a few months ago showing me a discussion the students were having on the School of Law's Facebook page. They were amazed that you can get San Pellegrino in a vending machine."
Holtzhousen reports that Angie's Popcorn is the most popular snack among his vending customers, and that water is the most purchased beverage. "These are popular because they're not heavy, and they don't make the students lethargic," explains Neil. "I received requests to sell a healthy energy drink because the vending machine next to mine sells Red Bull and they were looking for a healthy option. Now I sell Steaz Energy Drinks."
Neil has made an effort to cater to the needs of his customers, and in turn has established both a profitable and rewarding business. He plans to purchase another four executive machines in the second half of this year, and to expand his target locations beyond schools to instill healthy eating habits within his community.
About Sprout Healthy Vending
Sprout Healthy Vending provides state-of-the-art vending technology, thousands of healthy and organic products and turnkey customer solutions for over 130 regional operators across the United States. To learn more about the company, locations and products please visit http://www.sprouthealthyvending.com or call (800) 450-7648.