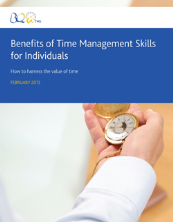 London, U.K. (PRWEB UK) 19 March 2013
BQuTMS provider of a leading time management system has initiated a series of white papers with the aims of providing free resources and support to those looking to get the most out of the most precious resource, time.
The first white paper on The Benefits of Time Management for Individuals provides recommendations and insights into how to prioritize daily tasks.
Most people are finding it more and more difficult to strike a time balance in their work life and their personal lives. Research shows that;

Wasted time in meetings costs businesses £26 billion and the average employee wastes two hours and 39 minutes in meetings every week (Epson and the Centre for Economics and Business Research)
The average employee spends 40% of their working week dealing with internal email (Atos Origin)
BQuTMS research finds that there are many tools that would help anyone manage tasks and prioritise them better. Some key information highlighted in the whitepaper mentions the following key benefits of time management skills;
A more organised work and personal life
Improved productivity and efficiency
Ability to finish work on time
Reduced demands from those around you that can lead to stress and illness
Achieving both personal and work goals on time
Saving money and avoiding unnecessary costs
Avoiding tasks that do not add value to one's work or personal life
Improving one's development both mentally and physically
Finding time to indulge in things that give greater happiness
The other topics addressed in the whitepapers will teach how to use time management tools such as building a time management matrix, and also addressing attendance issues through giving tips for effective absence management.
Furthermore BQuTMS recently launched its new biometric student attendance management system, and in line with this has included resources on managing successful compliance through risk based management.
The material is available for download through their website http://blog.bqutms.com/whitepapers/
About BQuTMS
BQuTMS, a cloud based time management system, is a product developed by BQu, a subsidiary of Peritempo (Pvt) Ltd based in the UK. BQuTMS is built to help organisations in time management, employee attendance management, and project management.