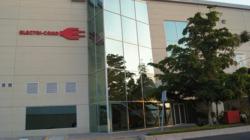 We're very excited about the potential for this new space.
Guadalajara, Mexico (PRWEB) March 15, 2013
A 25,000 square-foot manufacturing and warehousing facility in Guadalajara is about to get a whole lot bigger. Electri-Cord Manufacturing Company announced today they'll be doubling the size of their Mexico location.
The company-owned facility in Guadalajara is currently capable of running three shifts of up to 200 people. It's responsible for manufacturing and warehousing some of Electri-Cord's key products, like hospital grade cords, cord sets, and ribbon cables, and with their other facilities in Eagan, MN and Westfield, PA, it's currently the only location outside the US.
"We're very excited about the potential for this new space," said Tom Olmscheid, Director of Sales and Marketing at Electri-Cord Manufacturing. "We have some really great engineers working [in Guadalajara] and this will really add to their capabilities."
The grand opening ceremony is set for January 18, 2013, when representatives from the company will celebrate with the Governor of Guatalajara and other key city officials.
"The new facilities will take us from 95% of utilized capacity to less than 30%," said Hector Ramon, Plant Manager and Regional Sales Manager for Electri-Cord in Mexico. "That means there's a lot more room to grow!"
According to Ramon, the new building is located in a modern industrial park where utilities and installations are built to suit. "It's very exciting," he added!
Electri-Cord began in 1946 in Brooklyn, NY and moved to Westfield, PA in 1965. Throughout its history of owners and presidents, the company has diversified from manufacturing only power cords to becoming a major supplier of cables, wiring harnesses, cable assemblies, and box builds to some of the largest companies in the world.
For more information about Electri-Cord Manufacturing, visit them online at http://www.electri-cord.com or call 814-367-2265.