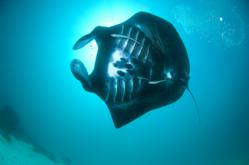 "CITES is our most important international agreement in protecting a wide range of species against the illegal wildlife trade," - Dr. Russell Mittermeier, President of Conservation International.
Arlington, Va. (PRWEB) March 14, 2013
The close of the 16th meeting of the Convention on International Trade of Endangered Species (CITES) cemented the Bangkok meeting as a major conservation contribution with the historic regulation of international trade of five species of sharks and manta rays and almost all rosewood tree species.
These species have now been listed in CITES's Appendix II, which does not ban their trade, but offers a greater level of protection and regulation of their international trade through supervision and accountability. These include Oceanic whitetip, Porbeagle, and Scalloped, Great and Smooth hammerhead sharks, manta rays, and rosewood and ebony trees from S.E. Asia, Central America, Brazil and Madagascar, all of which are severely threatened but highly commercially valuable.
Along with these decisions on sharks and timber, the CITES Parties adopted measures that will contribute to better trade management and conservation for elephants, rhinos, turtles, Asian big cats and crocodiles.
"CITES is our most important international agreement in protecting a wide range of species against the illegal wildlife trade, which is comparable to the drug trade in global proportions and negative impact" said Dr. Russell Mittermeier, President of Conservation International. "When one considers the current long term damage occurring to biodiversity and the ecosystems upon which we all depend, such impact probably exceeds that of other illegal global activities. Listing these commercially valuable species is a major success showing that nations are beginning to understand that further loss of such critically important natural capital represents a threat to all of us."
The illegal wildlife trade is a worldwide black market which is estimated to be a multi-billion dollar business. It also is a catalyst for other criminal activities that pose significant to risk to species, livelihoods and national security around the world.
"The progress and goodwill of this meeting stands in stark contrast to the 2010 meeting in Qatar, which did little to bolster the status of endangered elephants, rhinos or sharks," said Dr. Peter Paul van Dijk, director of CI's Turtle Conservation Program, and leader of the CI team at CITES. Much more remains to be done for a large suite of species and commodities in international trade, ranging from elephants, rhinos, turtles, pangolins, sharks and rays, to rosewood, ebony and sandalwood, but it appears that more and more of the Parties to CITES realize that sustainability is the only viable way forward. We are leaving Bangkok with more hope than we arrived with two weeks ago."
Sharks and rays
"This was perhaps the biggest step forward for international manta ray and shark conservation in the past decade," said Dr. Gregory Stone, chief scientist for oceans and executive vice president at Conservation International. "Five shark species including Oceanaic whitetip, Scalloped hammerhead, Great hammerhead, Smooth hammerhead and Porbeagle were finally included in CITES Appendix II. This inclusion sets an important precedent for CITES as it marks the first time that any species affected by industrial fishing on the high seas has been put on a CITES list. This is a transformative decision."
"Together with Whale, Basking and Great White sharks, there now are in total eight shark species together with Mantas listed in CITES Appendix II." Stone said.
Ocean health depends on healthy populations of sharks, which ensure the health and stability of populations of fish further down the food chain. They are also an important ecotourism draw in countries are varied as South Africa, Ecuador and Indonesia. In spite of these benefits, overfishing has led to drastic declines in shark numbers.
"International trade drives the overfishing of these species, and CITES is the only international mechanism to regulate the trade of threatened species," Stone said. "It will take more than just CITES regulation, however, to save sharks. There must also be reforms and improvements by regional fisheries management organizations and better implementation of the Port State Measures Agreement, which ensures adequate inspection of all vessels."
Luxury timber
'The listing of almost all rosewood species under Appendix II is a great step towards reducing the rampant illegal international trade of these trees globally,' said Li Zhang, CI scientist and CI team member at CITES.
"Growing demand for luxury furniture has led to a major increase in deforestation and an explosion of violence around illegal trade in this precious wood." This new listing will require all trade in these species to be under permit from this day forward and this measure should assist in reducing the ease and rate of such crime.
"Rosewood trading in Madagascar and across South East Asia, has led to a crisis of illegal logging in these areas in the past decade," Mittermeier said. "It has been a major issue for Madagascar since the coup that took place there in March of 2009. This listing is a positive step to reduce this destruction of these threatened slow growing hardwoods."
Turtles
Three species of North American turtle species were afforded safeguards from exploitation for international trade for the first time by their inclusion in Appendix II, so were 23 Asian species of freshwater turtles.
Twenty more turtle species, whose trade was already regulated by their Appendix II listing, were brought under stricter controls by either imposing a zero quota for wild-collected animals or by placing them in Appendix I, which allows no commercial trade at all in its species.
"There is reason to be optimistic about the attention paid to turtles at this CITES meeting," said van Dijk. "The change in CITES status for these turtles was also accompanied by a set of decisions that will lead to better understand the trade impacts on turtle populations, and will deploy the actions needed to safeguard populations from over-exploitation."
Elephants
A report from the CITES Monitoring of Illegal Killing of Elephant (MIKE) Program presented at this COP16 showed over 17,000 African elephants were poached for their ivory in 2011, and the initial figure from 2012 was even worse. Meanwhile, 60% loss of the African forest elephant population was confirmed by a CI co-funded research paper published in PLOSONE last week. Therefore, CITES parties and scientists urge involved consumer countries to strengthen the control and management of domestic ivory market and take measures to reduce the demands.
CITES
Hosted in Thailand, this year's CITES conference was great success. In this landmark year, the Prime Minister, Yingluck Shinawatra, announced an end to national ivory trade, further strengthening Thailand's strong history of conserving its biodiversity and ecosystem services while strengthening the wellbeing of its people.
CITES meets every three years to discuss how to best regulate trade in plants and animals to ensure the survival of more than 35,000 species. As of CoP16, 177 governments are Party to CITES, representing their countries' civil society, businesses, non-governmental organizations and groups speaking for indigenous peoples.
###
Available content for media (***Please Provide Image Credits***)
Photographs Available at: http://bit.ly/13V2ByO
For more information, contact:
Kevin Connor, Media Manager, Conservation International
Office +1 703 341 2405/ mobile +1 571 232 0455/ Email kconnor(at)conservation(dot)org
Emmeline Johansen, Regional Communications Manager, Asia Pacific Field Division, Conservation International | Mobile +64 4 277 793 401 | Email ejohansen.conservation(at)gmail(dot)com
Note to editors:
About Conservation International (CI) – Building upon a strong foundation of science, partnership and field demonstration, CI empowers societies to responsibly and sustainably care for nature and its global biodiversity to promote the long-term well-being of people. Founded in 1987 and marking its 25th anniversary in 2012, CI is headquartered in the Washington, D.C. area. CI employs 900 staff in nearly 30 countries on four continents and works with more than 1,000 partners around the world. For more information, please see http://www.conservation.org or visit us on Facebook and Twitter.