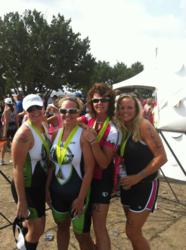 Shoulders/arms/abs done, did a bit better today :) Got a compliment yesterday that I'm shrinking! Woop woop!
Austin, Texas (PRWEB) March 19, 2013
Fitfanatic Wellness LLC is gearing up for summer with on-line Spring Health and Fitness Challenges starting April 1st and 15th. Joining a Challenge can be a great way to kick start someone's health and fitness goals to prepare for summer. It's a way to break down big goals into attainable pieces with support from like-minded people. Dedicated people of all fitness levels are encouraged to participate. "When Fitfanatic Challenge members can see and feel an improvement in weight, flexibility and energy at the end of a Challenge they have succeeded. We help clients identify those successes and push the bar higher." says Fitfanatic Wellness owner and trainer, Karan Duncan.
Who are Challenge Groups for?
If people have a schedule that makes it difficult to adhere to a gym or boot camp class schedule, Fitfanatic Wellness Challenge Groups give clients the freedom of a personalized schedule with the accountability of group training.
Why Challenge Groups Work?
Social support is a huge factor in making successful lifestyle changes. Surrounding challenge participants with like-minded people with similar goals pushes challenge members to do more than they would push themselves. Fitfanatic Challenge Groups bring that support to the client no matter where they are. People who are competitive by nature find the environment to be a great motivator. Most challenge members are really only competing with their previous performance and benchmarks but the accountability that a Challenge Group brings can help people stay focused on their long term goals through encouragement and sharing of challenges and successes along the way. "Health and fitness success is based on the daily commitments we make to ourselves. We find that people have a harder time executing personal commitments than those made to or for someone else. We offer a safe, judgment free zone that helps people stay committed to their personal development." says Fitfanatic Coach Brad Duncan.
Karan Duncan, owner of Fitfanatic Wellness LLC and Certified Personal Trainer lost over 140 pounds with the support of her on-line group that started in 2010. "I have been fortunate to stay in touch with many members of my original support group and have even met a few members in person over the past year. I feel close to these individuals because we supported each other through some pretty intense personal changes. These groups work where other options have failed because of the personal relationships that are cultivated during the Challenge Group Process." Stated Karan
How Challenge Groups Work?
Fitfanatic Wellness Challenge Groups are on-line private groups with an average of 5-10 people working on the same nutrition and fitness goals. Members of the group are typically using the same program and can relate to the challenges and frustrations that they may face during the daily workout and nutritional regiment. Each member posts daily about the successes and challenges as they relate to nutrition and their daily workout. It is the responsibility of the other members to support each other daily with personal posts, advice and encouragement. The coach of the group is responsible to direct the basic format of the conversation, encourage participation, share advice and resources. The coach may also reach out to members who are struggling to maintain their daily commitments. Fitfanatic coaches can assist with meal planning, exercise form adjustments and modifications to the workout plans as needed to help with a variety of fitness levels.
Programs vary based on goals and can incorporate weight training, mixed martial arts, boot camp style training and cardio to strictly nutritionally focused programs. April's programs will include weight management, muscle definition and toning and multi-sport training.
What people are saying about successes in challenge groups?
Here are some examples of successes from our current Challenge Groups
"Workout done. Lost 1" off my waist in 2 wks :) oh and an 1 1/2" off my hips/booty!! Back down a jeans size." "Shoulders/arms/abs done, did a bit better today :) Got a compliment yesterday that I'm shrinking! Woop woop!" - Amanda S., Las Vegas, NV
"Here's a difference with me now versus six months ago...
My girlfriend and kiddos are eating a bowl of ice cream while watching the end of Groundhog Day. Me, I'm eating a bowl of leftover steamed squash from a couple nights ago. Just sounded better." - Aaron R. Austin, TX
"Combat 60 Live is by far my favorite workout. Love the boxing combos. I feel like a bad, bad man when I'm doing it. 987 calories burned tonight." - Steve M. Springfield, PA
Groups are forming now for April 1st. Contact a Coach at Fitfanatic Wellness by March 25th to help you select the right program and group based on your goals.
Fitfanatic Wellness LLC offers in person and virtual personalized training and coaching services to help busy people realize their health and fitness goals. Additionally, Fitfanatic Wellness LLC presents workshops, webinars and lectures on living a healthy lifestyle.