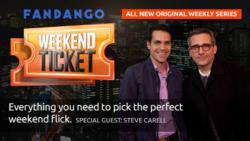 Los Angeles, CA (PRWEB) March 14, 2013
Fandango, the nation's leading moviegoer destination, announced today the launch of Fandango's latest original digital video series, "Weekend Ticket," premiering today at http://www.fandango.com/weekendticket.
Hosted by Fandango's Chief Correspondent Dave Karger, "Weekend Ticket" will breakdown the new releases and match up moviegoers with their best film choices for the weekend. Unlike other movie preview shows, "Weekend Ticket" will directly connect moviegoers to Fandango's advance ticketing for that weekend's top picks at one of its 20,000 screens nationwide. Also unique to "Weekend Ticket" is proprietary information from Fandango's "Fanticipation," a new movie buzz indicator that measures fan excitement based on advance sales, traffic and social media.
"We hope our new show will help filmgoers discover new movies," says Karger. "Whether it's the perfect date night movie or the right film to see with the kids, 'Weekend Ticket' will offer weekly recommendations for new releases tailored to film fans' interests."
"Weekend Ticket" also features celebrity interviews with the stars of new movies. In the debut episode, Dave Karger interviews Steve Carell from "The Incredible Burt Wonderstone" debuting in theaters this week. Upcoming guests include Paul Rudd, Josh Duhamel, and Paul Walker.
The show follows on the heels of Fandango's first original video series, "The Frontrunners," a seasonal show covering the movie awards season. "Weekend Ticket" is Fandango's first ongoing weekly series.
About Fandango
Fandango, the nation's leading moviegoer destination and an NBCUniversal company, sells tickets to more than 20,000 screens nationwide. Fandango entertains and informs consumers with reviews, commentary, celebrity interviews and trailers, and offers the ability to quickly select a film, plan where and when to see it, and conveniently buy tickets in advance. For many theaters, fans can print their tickets at home or receive them as a paperless Mobile Ticket on their smartphones. Fandango is available online at http://www.fandango.com, via smartphones, tablets and other mobile devices, and at 1-800-FANDANGO. Fandango's top-ranking movie ticketing apps, with 31 million downloads, are available on the iPhone and iPad, Android, BlackBerry, Windows Phone 7 and many other platforms. Fandango is enjoyed by more than 41 million online and mobile visitors per month. Film fans find Fandango on Facebook at http://www.facebook.com/fandango and on Twitter @Fandango.