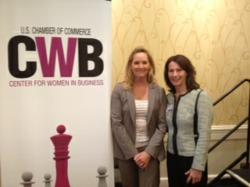 Women serve as a catalyst for so much positive change. When business includes women society wins." -Lori Blaker
Rochester Hills, MI (PRWEB) March 18, 2013
The leadership breakfast was a partnership between the U.S. Chamber of Commerce Center for Women in Business (CWB), the Rochester Regional, Auburn Hills and Troy Chambers of Commerce. The event which focused on helping employers better understand how to recruit, retain and leverage the talent of female leaders drew attendees from the entire Metro Detroit region. Other panelists included Steve Henderson, President of Dow Automotive and Rumia Ambrose-Burbank, President/Founder VMS365.
Roberta Zenn Phillips, the Executive Director of the US Chamber's CWB presented a summary of a recently issued CWB report in conjunction with McKinsey on corporate best practices for advancing women. The presentation highlighted new data on corporate best practices for achieving significant female representation within an organization and how to develop high-potential women for senior management roles and board leadership.
Blaker strongly advocated for the development of women leaders in the workplace at the event saying, "Women are more likely to employ a transformational style of leadership. Women have a diverse way of looking at things and a diverse way of managing, this helps organizations succeed."
When asked about her experiences in developing global work teams, Blaker explained, "Women serve as a catalyst for so much positive change in society. If you want to lift a family out of poverty, educate the woman. If you educate the women, you educate a nation. When business includes women society wins."
Blaker leads by example, TTi Global has ranked consistently among the "Top 25 Woman-Run Businesses in the USA" as recognized by the Women's Business Enterprise National Council. In 2012 President/CEO Lori Blaker received the "Leader of Leaders" Award from Leadership Oakland. Additionally she was a part of the first ever US Department of Commerce trade mission to Afghanistan.
TTi Global has experienced 263 percent growth over the past five years and continues to receive recognition for corporate achievement. In 2012, TTi Global earned a position on the coveted Inc. Magazine's 5000 list for the second time. TTi Global was ranked as one of Michigan's fastest
growing privately-held companies (as recognized by Crain's Detroit in 2010 and 2011) and ranked as one of the fastest growing private companies in America (according to Inc. Magazine).
#####
TTi Global provides staffing, learning, research and consulting solutions to industries across various sectors with automotive as a core focus. TTi Global oversees operations on five continents with offices spanning the globe, which include Australia, Brazil, Canada, Chile, China, India, Japan, Mexico, Peru, South Africa, Thailand, Venezuela, UK and most recently Afghanistan.
With a staff of over 2000 employees in international operations, they offer a wide range of services, tailor made to drive business goals, including business consulting, research, staffing, workforce development and learning solutions. TTi Global world headquarters are located in Rochester Hills, Michigan. For more information visit http://www.ttinao.com