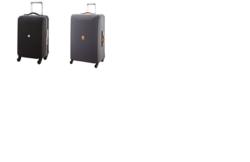 The Delsey name comes with creativity and innovation behind it.
Kent (PRWEB UK) 15 March 2013
The Delsey HONORÉ is a hard sided suitcase range that is made from 100% polycarbonate.
The range offers three varying sizes from a cabin size (55cm), medium (67cm) and the large (78cm). These are three brilliant and ideal travelling sizes for longer or family holidays or even for the shorter stay with the cabin size. The Delsey name comes with creativity and innovation behind it. The brand has come to be trusted by many in numerous countries around the world while providing top notch quality bags and suitcases to suit various types of travelling, from casual right up to business.
Andy Steadman, Managing Director of Luggage Superstore, comments that " The clean and simplistic look of this range hides the strength of this polycarbonate suitcase."
The design of the cases brings a professional look to them. The zipping system of the case provides a rainproof protection and the shell can easily be wiped clean if ever needed. The range is equipped with the ever popular TSA lock combination system and the cases can be registered with the web tracking system should the item ever go astray in transit.
Since 1946 Delsey has been designing and creating luggage that move with the times and needs of the traveller to always bring the best experience and peace of mind while using one of their brnaded cases or bags.
Luggagesuperstore established site is in West Kingsdown, Kent. Their aim is providing competitive prices of the highest quality luggage and top calibre Customer Service for online luggage shopping. Luggage Superstore recommends Carlton Luggage.
Trina Chee-a-kwai
Luggage Superstore
01474 854666
Email information