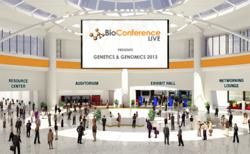 It is great that virtual events like the BioConference Live science conferences have become so popular, since they really are able to bring together scientists from around the world that might not otherwise connect.
Yorba Linda, CA (PRWEB) March 14, 2013
Virtual events, such as those produced by BioConference Live, are expected to continue to grow at a high rate over the next few years, according to new market research reports. The popularity of virtual conferences and the virtual environment as a tool to bring people together on a global scale shows in the increasing numbers of attendees at these events and companies willing to support the events. BioConference Live is able to attract both participants as a premiere producer of online conferences aimed at covering a variety of science verticals, including Clinical Diagnostics, Lab Animal Science, Genetics & Genomics, and Cancer Research and Discovery. Each annual conference is entirely online for easy attendance and free for attendees.
Physical conferences have always been the gold standard for presenting and displaying research. Scientists are able to attend presentations specific to their field of interest, meet and establish working relationships with others in their subject area, and display their own research in order to receive feedback and suggestions from peers and experts. Companies are able to launch new products directly to their end-users and learn what is in demand given the newest research presented. However, there are several disadvantages associated with attending conferences located all over the world. For scientists, there is the high cost of travel and the time expense of suspending valuable research while away. For companies, there is also the high cost of not only team travel but booth preparation, as well as a limited audience reach and inconsistent outcomes. These issues have all become more relevant over the last few years with the rise in travel costs and decreases in research funding. These challenges have been overcome using virtual events and webcasts, from producers such as BioConference Live, to augment or even replace traditional conferences.
BioConference Live virtual conferences provide invaluable educational and networking opportunities for participants. Attendees can also receive free continuing education and continuing medical education credits for all conferences. Specialists, experts, and professionals from around the world are able to come together to discuss recent advances in science. The conferences also create an opportunity for companies and associations to exhibit new products and findings in the virtual Exhibit Hall. Participants can visit and live chat with individuals in virtual booths, watch videos provided by the companies and associations involved, and download white papers and other documents of interest.
2013 BioConference Live Schedule:

Clinical Diagnostics May 29-31, 2013
Genetics & Genomics August 21-22, 2013
Cancer: Research, Discovery and Therapeutics October 16-17, 2013
To register for a BioConference Live conference visit: http://www.bioconferencelive.com
About:
Founded in 2009, BioConference Live's vision was to connect the scientific world leveraging a unique virtual platform, discovering meaningful collaborations across geographic boundaries and fields of expertise. BioConference Live has grown into the world's largest series of virtual events within the Life Sciences and Clinical Diagnostics community. LabRoots is the owner and producer of BioConference Live, and is the leading professional networking website designed to connect all science verticals.
Contact Info:
LabRoots, Inc. Producer of BioConference Live
18340 Yorba Linda Blvd.
Suite 107 PMB 427
Yorba Linda, CA 92886
Phone: 1-714-463-4673
info(at)labroots(dot)com