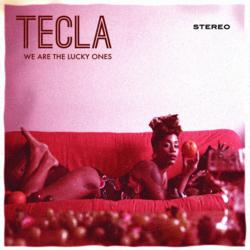 Throughout, Tecla also has a sense of play in her production. Synths weave to and fro, beats compel, and an 8-bit cameo cascades like an electronic waterfall.
New York, NY (PRWEB) March 15, 2013
NYC singer, rapper, DJ, producer and boundary-breaking artist TECLA will release her new album, We Are The Lucky Ones, March 19th via Mayimba Music. Her second full-length release, the album was written entirely by TECLA herself. The genre-defying record infuses tropical, Caribbean, pop, and funk elements with TECLA's unapologetic rap lyricism.
The full album, which WNYC calls, "fierce, personal dance-pop with serious piano chops --and highly melodic and compelling vocal manipulation," is currently available to stream via WNYC's Soundcheck.
Album track "Fake Tears" features TECLA's distinct, soulful vocals delivering an uplifting message above driving tribal beats. Full of bright, vibrant scenery and eye-catching imagery, the track's accompanying video represents the Afro-Caribbean style of the '50s with a modern twist, and features a cameo by former Das Racist member Kool A.D. You can check out the "Fake Tears" video where it premiered with PAPER Magazine.
We Are The Lucky Ones opens with "Lucky Ones," a track full of skittering beats and rumbling synth, which soundtrack TECLA's message of understanding your own privilege. The anthemic "Money" is a club-ready satirical take on gold digging with an instantly memorable hook. The hypnotic and soulful "Tragic Mulatto" was co-produced by members of Chairlift. "Fiction Fairytales of Love" closes the album with an ominous dancehall beat, spiraling vocals, and melancholic acoustic guitar, which explodes into layers of hand drumming and feedback.
Stay tuned for more from Tecla coming soon!