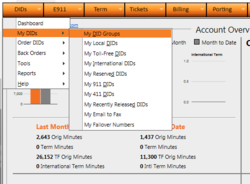 "If there is something that we know will make the customers experience better, we put it to the test and wait for the feedback."
Pittsburgh, PA (PRWEB) March 18, 2013
VoIP Innovations has just released a new feature in their BackOffice that allows their customers to categorize their DIDs. This offers better monitoring and management for the usage, cost, and profit associated with each DID.
The typical customer for VoIP Innovations is a reseller who could have thousands of end user DIDs sitting in their dashboard. With this new feature, customers will be able to create unlimited groups making it easy to organize these DIDs. They will have the option to name the group and also to add specific notes.
"We approach the development of new features and functionalities from the customers' point of view," said Jason Tapolci, President of VoIP Innovations. "If there is something that we know will make the customers experience better, we put it to the test and wait for the feedback."
Key metrics such as, MRC (Monthly Recurring Cost), E911, CNAM, termination and origination minutes, and total cost for each DID can now be seen inside the groups. Along with the key metrics, resellers can calculate their gross profit and gross profit margin of each group by adding their revenue.
Adding DIDs to individual groups has been made an easy process as well. Resellers can select multiple DIDs in bulk to move them to a new or existing group. Each group also has the ability to be exported in an excel spreadsheet or CSV file.
The addition of the 'My DID Group' will allow for better organization and management for VoIP Innovations customers. They will have more control over their end user DIDs and it will make for an overall better experience when using the VoIP Innovations BackOffice.
Jason Tapolci is President of VoIP Innovations, an Inc. 5000 company. They specialize in providing the largest DID and termination VoIP footprints in North America. Their network includes over 500,000 DIDs in stock in over 8,500 rate centers in the US and Canada. Recently, VoIP Innovations expanded their footprint to include DIDs in over 60 countries and now offers A-Z termination. VoIP Innovations is owned by ABG Capital and is based in Pittsburgh, PA. To learn more about VoIP Innovations, visit their blog at http://voipinnovations.com/blog/.