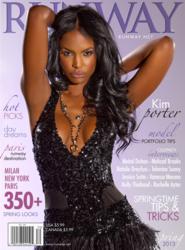 Los Angeles, CA (PRWEB) March 16, 2013
On Friday, March 15th, Runway TV played host to an at-capacity crowd of celebrities, fashion designers and VIPs at their exclusive, Style Fashion Week LA post event held at Hollywood hotspot, Drai's.
The event—featured a special appearance by Runway spring cover model, Kim Porter introduced insiders to Runway TV—the latest venture from Runway Media Group. Guests also got a first-look at the spring issue of the magazine.
The fashionable party-goers were treated to special performances by recording artists Quincy and Luciana. VIP's enjoyed complimentary bottle service and the crowd remained lively throughout the event.
"We were proud to be the media sponsor Style Fashion Week LA—which included designer showcases, musical entertainment, live performances, and lifestyle exhibits. We were thrilled to partner with Style Fashion Week for their LA Fashion Week activities. We feel that it was a perfect partnership for us. Our goal is to show fashion as not only just choice in garments, but as a lifestyle that influences all aspects of life. Style Fashion Week LA captures that," says Vincent Mazzotta, CEO of Runway TV.
For more information on Runway TV, please contact: Reese Bright at 323.366.0738 and/or pr(at)runway(dot)net and/or Terrance Gillum at 818.336.6605 and/or pr(at)runway(dot)net, or visit: http://www.runwaytv.net. For more information on Style Fashion Week LA, please visit: http://www.stylefashionweek.com.