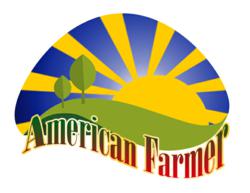 Jupiter, FL (PRWEB) March 18, 2013
Every year, producers, agricultural associations, corporations, universities, government agencies and countless others across America join together to recognize the contributions of agriculture on March 19th for National Agriculture Day, a day to recognize and celebrate the abundance provided by agriculture.
The Agriculture Council of America hosts the campaign on a national level. However, the awareness efforts in communities across America are as influential as the broad-scale effort. National Agriculture Day is helping to build awareness in our schools and communities about the contribution agriculture provides, so that future generations will understand that without agriculture, we would not have the food we eat, supplies we use, and clothes we wear on a daily basis.
"In a world with over six billion people, it's hard to believe that many don't think about where the food they eat comes from," said Charlie Cowan, Producer for the American Farmer series. "It's amazing that people today don't recognize that the raw materials needed to produce food, clothing, and shelter come from agricultural products."
American Farmer is dedicated to educating their viewers on the food and fibers produced every day, and the value and essential role that agriculture plays in maintaining a strong and sustainable future. All of us at American Farmer would like to give thanks to the hard working men and women in the agriculture industry. American Farmer recognizes and celebrates the contribution of agriculture and the abundance provided by the Ag community.
About American Farmer:
American Farmer is a breakthrough program on a mission to showcase the latest advancements in agriculture and farming. From seed to harvest, livestock and more, our producers have traveled the country covering the people, places and issues impacting all areas of farm country.
American Farmer airs Tuesdays at 8:30am EST on RFD-TV as well as Saturdays at 1:30pm and Midnight EST on RURAL-TV.
For more information visit: http://www.americanfarmertv.com or call (866) 496-4065.
Media Contact:
Charlie Cowan, Producer
(866) 496-4065 x 875
charlie(at)americanfarmertv(dot)com