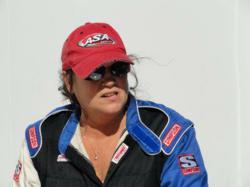 Now the world will finally get to take a peek into my life and my dream
Los Angeles, CA (PRWEB) March 15, 2013
Kicking off the TA2 season opener at Sebring International Raceway in Sebring, Florida on March 3rd, 2013, Mary "Mickey" Wright's initial mindset was to "at least finish the race" as the only woman driver racing in the series. Qualifying 29th out of 35 drivers, Mickey not only met her goal but is also well on her way to earning "Rookie of the Year" title. While running in 10th place for lap number 3, her fate was challenged by a flat tire and limited pit crew. By overcoming those obstacles, Mickey still managed to cross the finish line in 8th place. To see the races and their qualifiers in action, they can be viewed on GoRacingTV.com.
Mickey is grateful to her loyal supporter and sponsor at Fan Rag (FanRag.com), who has enabled her dream come true on the track and viably compete as one of the sport's leading ladies amongst men. Mickey's next race will be held at the Honda St. Petersburg Grand Prix (GpStPete.com) on March 22nd-24th for 1.8 miles and 14-turn temporary street course in downtown St. Petersburg, Florida. Regarding her upcoming race she expressed, "We are very excited to be a part of HSCR Division (Historic Sports Car Racing)". Mickey's complete racing schedule can be found at GoMickeyGo.com.
Merging the world of fast cars and film, Mickey Wright recently wrapped her "Go Mickey Go" documentary. On April 2nd, 2013, CineBistro, located at 1609 Swann Avenue-- Tampa, Florida 33606, will host the screening. "Now the world will finally get to take a peek into my life and my dream," Mickey recently told her fans about her upcoming debut on the big screen. For more information on "Go Mickey Go", Mickey Wright's inspirational story of success, and/or to schedule an interview, please contact Jade Umbrella publicity team.