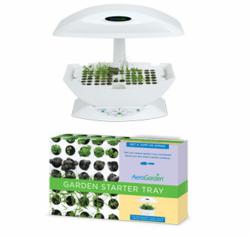 "We make indoor gardens, but most of us at AeroGrow are dedicated outdoor gardeners, too" said John Thompson, VP Marketing at AeroGrow
(PRWEB) March 18, 2013
Spring is just around the corner, and for many people that means the start of gardening season. Gardeners are always eager to get growing, and starting seeds at home is a great way to jump start the outdoor gardening season, and can take weeks or even months off your time to harvest. But until now, seed starting at home has been messy and prone to failure. New seed starting systems like the AeroGarden all-in-one indoor garden make seed starting easier than ever.
Here are six great reasons to start your outdoor garden indoors:
1. Big Savings – Seeds cost a fraction of what plants cost from the nursery. Save hundreds of dollars starting from seeds at home!
2. Big Variety – Your local nursery will sell dozens of varieties of tomato seeds – but likely only a couple of varieties of tomato seedlings. Experiment and grow what you LOVE!
3. Best Flavor – Starting seeds at home lets you save heirloom seeds from your favorite, juiciest harvests and grow them at home year after year. Start a family tradition! Share favorites with friends!
4. Big Harvests – The ability to transplant seedlings to the garden as soon as weather allows gives you a serious jump on the gardening season.
5. Big Color – The Garden Starter System is great for starting flowers too. Replace expensive store-bought bedding plants with seedlings you've nurtured from seed.
6. Big Fun – It's just plain rewarding to watch seeds sprout and grow indoors, nurtured in ideal conditions, then watch those seedlings take root in an outdoor garden – producing pound after pound of zucchini, melons, spinach, and everyone's favorite – garden fresh tomatoes.
Most of all, starting seeds indoors, when the snow is still falling outside, is a fun and rewarding way to remember that Spring is close at hand. New tools like the Garden Starter System available with the AeroGarden make seed starting easier, cleaner and more foolproof than ever. AeroGardens are all-in-one, dirt-free indoor gardens with built in grow lights that automate the growing process. They grow fresh herbs, cherry tomatoes and salad greens all year round, but in the spring they have the added bonus of becoming the ultimate seed starting system.
Using the optional Garden Starter System, the AeroGarden can start up to 66 seedlings at a time, and then automatically provide them with perfect nutrients, light and water. This develops healthy root systems and robust top growth for easy transplanting to outdoor gardens or containers when the time is right.
"We make indoor gardens, but most of us at AeroGrow are dedicated outdoor gardeners, too" said John Thompson, VP Marketing at AeroGrow. "Tens of thousands of our customers use the Garden Starter System to give their seedlings the best possible start in life before transplanting outdoors. The AeroGarden's ability to start seeds indoors so easily is just one more reason to love these versatile indoor gardens."
Regardless of the reason, tending a garden is fun and rewarding and starting your own seedlings at home means earlier harvests, better variety and more months of gardening fun.