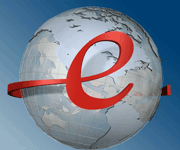 Germantown, WI (PRWEB) March 19, 2013
Ellsworth Adhesives, the world's largest distributor of Adhesives and Specialty Chemicals, is pleased to announce that it has successfully implemented a new Warehouse Management System in their Canadian facility that will help improve process times and the ability to provide best-in-class service to their customers.
Ellsworth Adhesives Canada implemented a fully automated Warehouse Management System (WMS). All of the items in their warehouse are bar coded and tracked through their WMS. This system includes many checkpoints that require verification of inputs, resulting in higher quality outputs. An inherent feature of their WMS allows them to control inventory by item, lot/batch and shelf life, and systematically match those to individual customer requirements. This world-class WMS is also fully integrated with other core systems that enable automated manufacturer document retrieval, lot-level label creation, and shelf life certification generation for those customers who require this value. The result is a superior, fully-controlled Quality system employed to support our AS-9120 Certification. Ellsworth Adhesives is also able to provide ship notification for every order.
Roger Lee, Vice President - Specialty Chemical Distribution, commented, "In today's markets, customers demand that their suppliers provide them with what they need, when they need it. The objective is to provide an enhancement that fully-insures a benefit to our customers which improves the products and services we provide. The successful implementation of this world-class WMS provides improved alignment within our North America distribution network. Platform consistency and process replication are fundamental keys to our operational goals that increase our efficiencies and add significantly higher customer value."
Ellsworth Adhesives Specialty Chemical Distribution understands and appreciates the role they play as an industrial adhesive supplier. They continually explore better ways to service their customer's procurement needs. Through their wide variety of Value-Added services, they aim to fulfill adhesives needs, from initial technical advice through customized product fulfillment. They strive to help their customers achieve maximum productivity with lower total cost in their manufacturing processes by offering valued services and solutions, and delivering quality products from world-class suppliers.
For more information on Ellsworth Adhesives Canada call 888-458-0554, or visit online at http://www.ellsworthadhesives.ca/. For more information on Ellsworth Adhesives, visit http://www.ellsworth.com or call 1.800.888.0698.