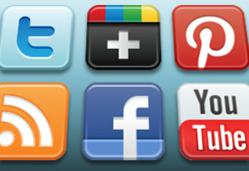 Psychics can use their skills and intuition for special events on Facebook just as easily as they do psychic readings by phone or online chat.
Langhorne, PA (PRWEB) March 18, 2013
Teens do it. Housewives do it. Movie stars do it. And increasingly psychics are doing it. What is "it" this time? Connecting on social media.
In just the last year, use of social media by professional psychics at Psychic Source, the most respected psychic service since 1989, has exploded with tweeting, pinning, posting, and every conceivable social media activity – including psychic readings on Facebook. As a result of its concerted efforts and growing ranks of online groupies, last week Psychic Source reached a Facebook milestone, surpassing the 5000-follower mark. And the "likes" just keep rolling in.
"Social media platforms provide a fantastic opportunity to engage customers outside of the usual psychic reading, to reinforce the Psychic Source culture and commitment to a positive, supportive, inspiring experience, while building brand loyalty and creating a better overall experience for customers," says Psychic Source Marketing Director, Maryanne Fiedler.
It might seem counter-intuitive for expert psychics who specialize in spiritual connections to embrace social media "sharing." Surprisingly, many of the professionals at Psychic Source say it's just the opposite: Social media platforms are great for connecting with customers and even for psychic readings.
"Just like we connect with customers by phone and online chat, we can transfer these abilities while doing special events on Facebook," says Psychic Paige. "We use the same skills of clairvoyance and intuition to make the connection."
While personalized readings are not conducted via social media, the psychics do special events to engage with customers through yet another channel.
Plus, connecting with customers on social media is a great way to get more, rather than less, personal. Curious about a psychic's favorite foods? His taste in clothes? Her cuddly pets? All of these are revealed on the Pinterest boards maintained by Psychic Source psychics. But that's not all. "We offer events and promotions exclusively on Facebook, which attract many followers," says Ms. Fiedler. "And once a customer joins our online community, there are so many more reasons to stay involved."
About Psychic Source:
Founded in 1989, Psychic Source is the nation's oldest and most respected psychic service. Psychic Source's advisors are experts in astrology, horoscopes, numerology, tarot cards, clairvoyant readings, and many other psychic disciplines. Psychic Source believes in its community of authentic Psychics and stands behind the authentic psychic readings they deliver to clients. Visit them online at http://www.psychicsource.com.
For more information, contact:
Maryanne Fiedler, Marketing Director
maryanne(at)psychicsource(dot)com
215-953-8568