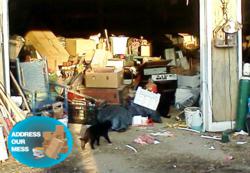 There is a good chance that a neighbor or family member may be secretly suffering in their own home.
Mount Laurel, New Jersey (PRWEB) March 18, 2013
Hoarders have reluctantly taken the national spotlight as of late. Thanks to A&E's riveting, Emmy nominated documentary Hoarders, a regularly aired episodic television series, hoarders from all over the country are allowing others who suffer from the disease to exhale and say, "I'm not alone." According to research done by Address Our Mess, a subsidiary of Maryland-based SI Restoration, statistics show that 2-5% of the world's population are hoarders.
What does this mean for New Jersey residents? According to the U.S. Census Bureau, the population in New Jersey is 8,864,590 (as of July 2012). This means anywhere from 177,000 to 443,000 New Jersey residents suffer from a condition which labels them a "hoarder". There is a good chance that a neighbor or family member may be secretly suffering within the confines of their own home.
Viewers of the documentary Hoarders regularly tune in to find tenants living amongst massive amounts of papers, trinkets, knick knacks and clothing. However, inanimate items are not the only things a person can hoard. On March 12, 2013, New Jersey News 12 posted a report from Monmouth County officials stating that the SPCA rescued dozens of animals from a home in Howell, New Jersey. These animals ranged from the typical domesticated dogs and cats all the way to feral creatures such as raccoons. The condition of these animals was not so typical, unfortunately, as many of the animals showed signs of neglect.
New Jersey Legislators passed bill A2981 in June of 2008 which defines animal hoarders as:
"(people keeping or having) possession of a number of animals in a quantity such that the person fails or is unable to provide minimum care for all of the animals and, due to the failure or inability to provide minimum care, at least some of the animals experience death, bodily injury or other serious adverse health consequences. Animal hoarding is a crime of the fourth degree."
The dozens of animals rescued in Monmouth County has garnered the attention of local residents. With penalties and fines as high as $10,000 and possible jail time of up to 18 months, New Jerseyans are being called to take action. Residents who have friends or family who are animal hoarders, or are themselves animal hoarders, should contact a hoarding specialist like Josh Rafter of Address Our Mess immediately. Hoarding Specialists are usually certified by technicians like Cory Chalmers, resident expert of A&E's Hoarders, and become affiliated with groups like the National Association of Professional Organizers or the National Study Group of Chronic Disorganization (NSGC). Josh and his team of specialists boast affiliation with both aforementioned groups.
Unlike the television show, real life hoarders do not have to live under a spotlight. In fact, anonymity is key to most people who suffer from the disease. Hoarders should not be ashamed to seek help to enhance their quality of life. In the case of animal hoarders, not only will the person's quality of life improve, but so will the lives of the animals they love and care for so deeply.