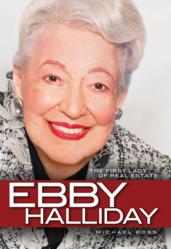 At 102, her "you can, too" attitude continues to influence others
DALLAS, TEXAS (PRWEB) March 18, 2013
Brown Books Publishing Group invites readers to discover the secret behind real estate legend Ebby Halliday, who recently celebrated her 102nd birthday—and still works daily.
Ebby's can-do attitude helped define the real estate industry, and her book, Ebby Halliday: The First Lady of Real Estate (Brown Books Publishing Group), provides insight to a new generation of readers as they pursue their dreams.
Smart, vivacious, and savvy, Ebby Halliday shares her story, telling how she rose from humble beginnings to become the founder and chairman of the board of Ebby Halliday, REALTORS®.
Ebby's book captures the events that influenced her life and led to her founding of what is today the largest independently owned residential real estate company in Texas, and the 12th-largest in the United States according to REAL Trends Inc.
Ebby makes it clear that hard work and tenacity guided by a strict moral compass are the keys to success.
About Ebby Halliday:
A recipient of the 2005 Horatio Alger Award, Ebby Halliday's achievements and dedication to making the world a better place are legendary. At the age of 102, her cheerful, positive attitude continues to influence others to overcome obstacles - whatever they may be, to pursue their dreams, adapt to change and find success.
For more information, visit: http://www.ebbysbook.com.
About Brown Books Publishing Group:
Brown Books Publishing Group is an independent Texas-based publisher. To learn more, visit http://www.brownbooks.com.
# # #