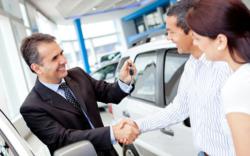 It is not impossible to get a car loans as a student, but college student have unique needs and considerations. Most lenders will require a co-signer for approval.
Wilmington, NC (PRWEB) March 18, 2013
My Bad Credit Auto Loan, a nationwide loan-matching service that specializes in non-traditional lending scenarios such as those faced by today's college students, will be publishing a short guide to help those students in need of a car loan. It is a well-known fact that trying to get approved for financing as a student is a seriously difficult. After all, lenders evaluate applicants in two main areas: income and credit. Most lenders require a minimum monthly income of $1500 before taxes. For many students, it's a challenge to a secure a job with sufficient hours or responsibility to earn this much, while juggling classes and homework. Secondly, many students have minimal credit history, as they have never financed a car or bought a home, and many have not owned a credit card.
The team at My Bad Credit Auto Loan has worked with many students in the past, helping them to secure financing. Their number one recommendation is for any college student to ask a parent or trusted relative to co-sign the loan. In this way, the bank or lender can evaluate the application based on the credit and income of the co-signer. However, they are quick to remind applicants that a co-signer's responsibility is nearly as significant as that of the primary borrower, as this person will be liable for repaying the borrowed funds if the borrower defaults on his or her payments. They company also recommends that students look into the student or recent graduate programs offered by many automakers, as these often afford the buyer a cash rebate or other discount, as well as loosened credit guidelines. Thirdly, the company encourages students to consider whether a car loan is truly a necessity, as it is a significant additional debt to take on for anyone financing their education through student loans. In many cases, paying cash for a used but reliable vehicle may be the better option.
"It is not impossible to get approved for a car loan as a student," said one senior spokesperson. "But college students have unique needs and considerations. Most lenders will require a cosigner for the applicant to be approved."
Interested parties and prospective applicants can view the company's secure application here: https://www.mybadcreditautoloan.com/apply/
About The Company: My Bad Credit Auto Loan, headquartered in North Carolina, serves customers nationwide, empowering them to get approved for financing from a dealer or lender in their area. The company can boast one of the most comprehensive lender networks in the country, coupled with an industry-leading approval platform that takes the headaches out of the approval process.