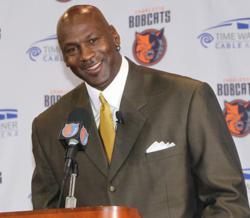 "The issue of paternity is not uncommon when dealing with child support and child custody claims." - Chris Miller, Partner
Charlotte, North Carolina (PRWEB) March 18, 2013
Last week Reuters.com reported that Charlotte resident and Bobcats Team Owner Michael Jordan is embroiled in a paternity and child support suit regarding 16-year-old "Taj" Reynolds. The suit was filed in Fulton County, Georgia by Pamela Smith, who claims she had a tryst with Jordan in 1995. In the suit, Smith asks the Court to order Jordan to submit to DNA testing to prove paternity. Smith further asks the Court to order Jordan to pay child support and medical expenses for her son, but requests that she retain full custody. While no outcome has been reached in this case to date, the case has prompted many North Carolina family law attorneys, including those at Miller Bowles Law to explore how North Carolina law would apply had the suit against Jordan been filed in his home state.
Like many other states throughout the country, in North Carolina, a man is presumed to be a child's natural father if blood or genetic testing conducted pursuant to N.C.G.S. § 8-50.1(b1) indicates at least a 97 percent statistical probability of paternity. This presumption may be rebutted by clear, cogent, and convincing evidence that the man is not the child's biological father. If a blood or genetic test indicates a probability of paternity below 85 percent, the man is presumed not to be the child's natural father. Much like Georgia, establishing paternity in North Carolina is typically initiated by a civil suit.
After paternity of an illegitimate child has been legally established in a civil action in North Carolina, the child's father and mother are liable for the child's support to the same extent as the father and mother of a legitimate child. Therefore, the laws regarding child support apply to men whose paternity has been established by the Court just as they would to any other parent. Per North Carolina law, the amount and scope of the father's obligation to support his minor child depends on the child's reasonable needs and the relative ability of the father to provide such support. The duration of the child support obligation depends on many factors, but the obligation typically lasts until the child is emancipated, turns 18 years old, or graduates high school. If the father is a noncustodial parent, he still has a legal obligation to support his child. His obligation is not dependent on whether the custodial parent allows him to visit the child. However, a man whose paternity has been established may seek custody of the child if he wishes.
Therefore, according to the attorneys at Miller Bowles Law, if Pamela Smith had filed her paternity suit in North Carolina, Michael Jordan would have most likely been ordered to complete a blood or genetic test to determine paternity. If the blood or genetic test indicated at least a 97 percent probability of paternity, Jordan likely would have been ordered to pay child support, but he could have also attempted to seek custody of the child. While Jordan's situation is newsworthy because of his high profile status, many parents in North Carolina are dealing with the same concerns. Many of these parents use a family law attorney to help them navigate the sometimes complex issues of paternity, child support, and child custody. Speaking with a family law attorney, like those at Miller Bowles Law, on matters related to paternity, child support, and child custody can help ensure a favorable outcome for all parties involved.
Miller Bowles Law is a full-service Charlotte Family Law firm located in the historic district of Dilworth in Charlotte, North Carolina. The attorneys at Miller Bowles Law have over 15 years of combined experience in representing clients in Charlotte family law cases and family law cases in surrounding counties including Union, Gaston, Iredell, and beyond. Our mission, simply stated, is to provide the highest-quality legal representation to our clients so that each feels supported and well-prepared to face the family law court system.