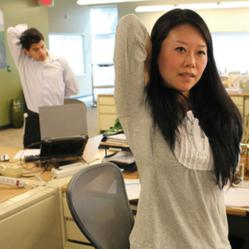 The level of leader commitment at Mars to help associates be their best is extremely impressive," notes Gena Tallarico, Mars US Health and Wellness Services Manager. "Part of our job is developing strategies that help sustain that level of engagement.
Midland, MI (PRWEB) March 19, 2013
The Mars US wellness program dates back to 2002. It's grown from a 1-person office working for the Occupational Health department to an interconnected network of committed professionals spanning 53 sites and serving 8150 associates. Effective techniques for leadership and associate engagement include:

Wellness Steering Committee — Drives health/wellness improvement initiatives; approves wellness strategies and programming; enlists support from senior leaders
14 Regional Nurse Case Managers — Encourage and motivate individuals at regional sites daily toward best health
7 Regional Wellness Advisers provided by HealthFitness — Develop onsite wellness programming, activities, and strategies; work with site leaders in advancing a culture of wellness
7 Segment Wellness Leaders — Recruit/train Site Wellness Champions; engage site leaders; provide feedback to Wellness Steering Committee
53 Site Wellness Champions — Work with site leaders and line managers on messaging and engagement; recruit/train Site Wellness Committees; promote programs; assist in marketing and communication
Site Wellness Committees (larger sites only) — Assist in implementing national initiatives; solicit feedback from associates; report back to Site Wellness Champions; help increase wellness activity participation.
Strategic Planning for Success
The wellness staff take a 3-pronged approach to achieve their corporate objective: "Create a sustainable culture of well-being throughout the company."
Provide best-in-class wellness programs for associates (and spouses)
Partner with worksites to develop healthy work environments
Ensure leadership representation in all aspects of operation.
Gena Tallarico, Mars US Health and Wellness Services Manager, feels this strategy helps everyone stay focused. "We review our population health data and other information important to the strategic planning process each year. For instance, between 2010 and 2011, healthcare costs rose 5.6% for wellness program participants and 11.7% for those who did not participate."
"From there, we set goals and communicate them on a national scale. We work with leadership to achieve these high-level goals and reinforce identified actions that contribute to a successful outcome."
During these leadership meetings, wellness staff use a specially designed scorecard showing goals and targets for each segment. Tallarico believes it's the scorecard's simplicity that makes it so effective. "The key to communicating with senior leaders is to quickly focus on the important actions you're trying to accomplish. The scorecard emphasizes 4 specific areas. During these quarterly updates, we summarize how they are doing, what appears to be working, and what's not."
"For instance, in 2012 we were reporting on the percentage of each segment leader's associates who either got their annual physical exam or took an HRA. As we marched through the year, we showed a steady quarterly increase compared to any other year at Mars. We're confident this is a reflection of the segment leaders' engagement in reaching our goals." The quarterly segment leader meeting includes a review of their activities to reach scorecard targets, commitment to change the culture, and plans to encourage a healthy environment at each site. Support for the wellness network is solicited on such things as a budget to support training and agreement to dedicate work time to accomplish wellness tasks.
At a higher level, the wellness program is promoted by 2 senior leaders. Kevin Pollock (North American Wellness Staff Officer) and Apu Mody (Executive Wellness Sponsor) meet personally with the presidents and other senior leaders of each segment to promote engagement and alignment with program goals. Gena emphasized the importance of these wellness sponsors in making things happen at the top.
Kimberly Himes-Loprete (Health and Wellness Integration Manager) explains that each site operates in a decentralized manner. "We leave it up to the sites to determine types of activities to make their environment healthier. This last year we had several sites working to upgrade cafeterias, provide healthy options to all shifts, implement tobacco-free campuses, and establish policies for healthy food at meetings. We work with them and supplement their efforts as needed."
Himes-Loprete is excited about the Mars program's many successes over the last few years. "When I started in this position, we didn't have a story to tell. But we've grown and learned so much! We held an associate story-telling contest last year. When it was first rolled out, we wondered how much engagement there would be around the initiative but were pleasantly surprised by the number of success stories from 2012 alone. I love hearing how the programs we've designed, managed, and delivered have so positively impacted our population. It really makes me feel good to see associates wrapping their arms around what we're doing."
Health Enhancement Systems publishes success stories of worldwide wellness programs in its bimonthly Health Promotion Practitioner newsletter and creates employee wellness programs for organizations in North America and throughout the world. More than 20 effective, engaging wellness campaigns have been adopted by over a thousand organizations — serving hundreds of thousands of participants.
For more information, visit HealthEnhancementSystems.com or call 800.326.2317.