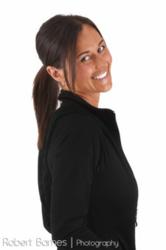 Hard work, dedication and focus. A bit of good fortune never hurts either.
Chicago, IL (PRWEB) March 18, 2013
Black Tiger Performance (http://www.blacktigerperformance.com) is thrilled to showcase a strong core group of women as a driving force within their ownership, fitness and rehabilitation programs. Years of experience in athletics, rehabilitation and the fitness industry set Holly Palin, Cassandra Rossbach and Katy Sandberg apart as leaders in their respective fields. Set to open within the next month in Chicago's West Loop Neighborhood; the facility will feature an athletic department, group fitness classes, a Crossfit affiliate (http://blacktigerperformance.com/crossfit) as well as injury rehabilitation services.
"Athletics have been a part of my life for as long as I can remember, so when the opportunity presented itself to start an athletic performance facility I knew that I had found what I was looking for and jumped at the chance to be a part of it," Palin stated. After playing field hockey and basketball as a Division 1 athlete at Northwestern University, Holly landed in a corporate marketing position after graduation. Nonetheless, she still found herself going back to her love of the game, coaching athletes at Francis W. Parker School in Chicago. While coaching at Francis Parker she met her current business partners, Geoffrey Ruttenberg and Neil Curran, who are also coaches at Parker. From there, Black Tiger Performance was born.
Joining the Black Tiger Performance fitness team and bringing with her 10 years of experience is Cassandra Rossbach. "I was never a high school sports star or a college athlete, actually when it came to sports I was average at best; not to mention my family is not exactly the ideal picture of athleticism or health. My love and passion for health and wellness comes from helping others reach their goals, boost their confidence and in turn become a better person," stated Rossbach. In 2009 while living in New York City Cassandra attended a fit camp and began training to compete at a regional and national level in fitness competitions with the Fitness America federation. This changed her life forever. She has since created several signature fitness classes and had the opportunity to work as a VIP trainer on the upper east side of Manhattan. According to Cassandra, "My style is ever changing; evolving daily and weekly to progress all of my clients to a higher level of health and fitness.
Another key player at Black Tiger Performance is Katy Sandberg. Sandberg brings to the team a Doctorate in Physical Therapy from Northwestern University and the opportunity for clients to find everything they need under one roof. "From the initial process of rehabilitation to full recovery I am very excited to offer my clients the opportunity to find everything they need and more in one great, high end facility. Not only can I work with and assist them throughout their recovery, but once they are recovered they can train at the facility so I can continue to monitor their progress and development. This is a very rewarding experience for me and will also provide inspiration to others," Sandberg stated.
Black Tiger Performance's mission is to be the best performance center in the country by merging the essential elements from conditioning, athletics, fitness, injury recovery and sports psychology in an effort to ensure the clients achieve their aspirations. In doing so, Black Tiger Performance recognizes that individuals have different needs, different fears, different limitations and a variety of strength and body composition, yet nonetheless fundamental core strategies are specifically generated to help them find their own strength to power through these limitations.