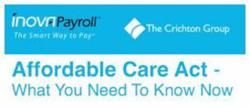 Free webinar will cover important decisions that companies must make in 2013 to comply with the 2014 Affordable Care Act mandates
Nashville, TN (PRWEB) March 16, 2013
Inova Payroll and The Crichton Group are presenting an educational webinar to help businesses learn about important 2013 decisions that will affect compliance for the newly approved legislation regarding the Patient Protection Affordable Care Act (PPACA) mandates that begin in 2014.
Austin Madison, VP of the Crichton Group and President-Elect of the Middle Tennessee Association of Health Underwriters will be the speaker, and Melanie Crow, PHR, VP Sales, Inova Payroll will be the moderator.
Smart employers are planning now, so they can make the best decisions for their companies. Topics covered will be:
1. Defining Full-time vs. Part-time employees
2. Pay or Play Mandate
3. Healthcare Exchange – What is it? What does it mean?
Due to the high demand, the webinar will be held on two dates: March 28, 1:00 – 2:15 pm and March 29, 9:00 – 10:15 am. The program has been submitted to HR Certification Institute for review.
Melanie Crow, Inova Payroll's VP of Sales, said, "Decisions made today will affect businesses' bottom line tomorrow. Understanding the impact of Health Reform on employers and employees is a role that Austin takes very seriously, as he makes it a priority to keep his clients informed as the market continues to evolve and adapt to changes brought about through the Affordable Care Act. We are pleased to present this informative webinar to help businesses address the urgency of health care reform and compliance issues."
For more information and to sign up, visit http://www.inovapayroll.com and click on the registration banner ad, or call 888.244.6106.
About Inova Payroll: Inova Payroll offers a complete line of smart payroll and HR solutions for companies of all sizes. Combining innovative, state-of-the-art technology with our earnest commitment to high-touch customer care, Inova Payroll sets a new standard in customer satisfaction. Our impressive suite of services encompass one-database payroll and HR solutions, nationwide tax filing, integrated time management systems, employee benefits, 401K and a growing suite of InovaPlus™ ancillary products. For more information, call 615-921-0600 or visit http://www.inovapayroll.com.
About The Crichton Group:
The Crichton Group has become one of the Southeast's premier independent insurance agencies by focusing on providing professional service to our clients. Our insurance professionals are dedicated to selling and providing quality products, services and risk management solutions. We develop relationships with our clients, companies and each other with a commitment to integrity, excellence, trust and respect. The Crichton Group is a privately owned independent insurance company with one office and a staff of 89 employees comprised of five (5) Partners, fifteen (15) Group Benefits Associates, seven (7) Personal Lines Associates, fifty five (55) Property and Casualty Associates and seven (7) Administrative Associates located in Nashville, Tennessee. We recognize our responsibilities and are committed to serving our communities.