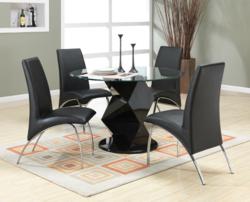 "The new collection of round and glass dining tables is simply sensational",
Orange, CA (PRWEB) March 16, 2013
Furniture Shoppers browsing for unique and affordable dining furniture have a new source in eFurnitureHouse. The newly released collection showcases unrivaled versatility and value in one of the industry's most popular style categories.
The new cocktail / round dining tables by Coaster Furniture allows consumers to use the piece for traditional dining or for entertainment purposes. The Dove Creek round glass cappuccino table set features a 48" round glass top, three-tier apron, and vinyl side chairs in red, green, ivory and brown. Consumers can choose the desired seat cushion color to compliment the table and surrounding room décor.
Another interesting new product is the McCall dark cherry buttermilk counter height table set, this 36-inch-tall counter table and criss-cross chair backs take casual dining to a new level by pairing modern day functionality with vintage styling.
Consumers' need for new styles of dining solutions has jump-started a category that, at times, suffers from predictability. Today, this furniture category is rife with directional design treatments that satisfy shoppers facing space constraints, and open space plans. Wanting something special? Here comes the Montichello round glass table set with a unique design, the Zanga chrome dining set is another, or the Inga modern dining collection. The Harrison dining set by Coaster Furniture brings the richness of old-world style and value to a whole new level.
"The new collection of round and glass dining tables is simply sensational", noted company spokesperson Tony Ashford.
Another exciting new addition to the world of home entertainment is a new line of modern bar stools in chrome finish with adjustable seat height.
Futon sofas are making a nice comeback with many new releases; modern style in synthetic leather is the predominant look, such as the black white checkered futon sofa bed, zebra print black white futon sofa bed, living room white chaise, and the Lana white futon sofa bed. The futons are made of durable steel upholstered with man-made leather or microfiber fabric. Each and every futon sleeper from eFurnitureHouse.com has been handpicked and buyers can choose from a number of different styles, sizes, upholstery and color.
Recognizing the recent increase in youth furniture demand, eFurnitureHouse has expanded its online catalog by introducing several new in bedroom collections as well as youth bunk beds made by ACME Furniture, Good Trading CO, and Home Elegance.
eFurnitureHouse.com, offers free shipping on almost all home furnishings including dining table sets, bedroom furniture, platform beds, bunk beds twin over full, glass coffee tables and marble dining tables.
eFurnitureHouse.com is an Orange County, California based online retailer, US based customer service with close ties to major furniture manufacturers on both sides of the Pacific, which enables it to offer the consumer the latest trends in furniture at the lowest possible price