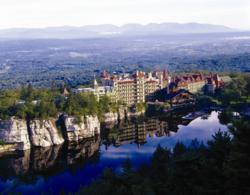 Plant-based diets are good for the environment, your heart, your weight and your overall health, and they can be delicious too!
NEW PALTZ, NY (PRWEB) March 14, 2013
Mohonk Mountain House, a historic Hudson Valley resort located on the Shawangunk Ridge in upstate New York, is pleased to announce a plant-based culinary weekend full of cooking demos, tastings and a wine pairing event, April 12-14 2013. The weekend will feature culinary tips from by expert chefs and cookbook authors Nava Atlas, Leslie Cerier and Fran Costigan as well as wines by Whitecliff Vineyard.
Beginning with a cooking demo and tasting on chocolate vegan desserts, the weekend will take participants on a delicious journey using leafy greens, local wines, gluten-free grains and other plant-based ingredients along with local wines paired with veggies (with an additional $25 tasting fee) and much more. Highlights of the weekend include:
Irresistible Chocolate Vegan Desserts for Everyone with Fran Costigan, Queen of Vegan Desserts, April 12
Wild About Greens with Nava Atlas, April 13
Veggies and Vino with Whitecliff Vineyard, April 13
Gluten-Free Cooking for Everyone with Leslie Cerier, "The Organic Gourmet," April 14
"Plant-based diets are good for the environment, your heart, your weight and your overall health, and they can be delicious too!" said Nina Smiley, Director of Marketing. "Mohonk Mountain House is pleased to a weekend that allows our guests to explore healthy culinary preparations."
Nava Atlas has written many renowned vegetarian and vegan cookbooks, including Wild About Greens, Vegan Holiday Kitchen, Vegan Soups and Hearty Stews for All Seasons, and Vegan Express. Her site, VegKitchen.com, is one of the leading resources for vegan recipes and plant-based kitchen tips on the web.
Leslie Cerier has been teaching culinary nutrition and hands-on vegetarian cooking for health and vitality, writing cookbooks focusing on eating local, seasonal, organic foods for over 25 years. Her cookbooks include Gluten-Free Recipes for the Conscious Cook, A Seasonal Vegetarian Cookbook, Going Wild in the Kitchen and The Quick and Easy Organic Gourmet.
Fran Costigan is a pastry chef, culinary instructor, and author internationally renowned as the "Queen of Vegan Desserts." The delicious yet healthy desserts in her cookbook, More Great Good Dairy-Free Desserts Naturally, satisfy vegans and omnivores alike. She teaches vegan workshops in New York City.
Learn more about the 'Healthy Living' culinary weekend. To make a reservation today, call 888.212.3057.
About Mohonk Mountain House:
Founded in 1869, the Mohonk Mountain House sits amidst 40,000 acres of pristine wilderness on the banks of Mohonk Lake in New Paltz, NY. Just 90 miles north of New York City, this 259-room property is a getaway for couples and families alike, offering a wide array of activities ranging from hiking to yoga to ice-skating. With classic accommodations, an award-winning Spa- just named the Number One Resort Spa in the United States by Condé Nast Traveler, and a stunning location, Mohonk Mountain House is the ideal destination for vacations year-round. For additional information on reservations, please call 888.212.3057 or visit mohonk.com.