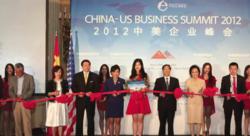 The event will be held April 28-30 at the Millennium Biltmore Hotel in Los Angeles.
Riverside, CA (PRWEB) March 20, 2013
In 2010, China-US Business Summit's first event attracted 48 entrepreneurs from China. This year's event will host 200. "At the major event in Los Angeles were going to have the 200 Chinese entrepreneurs get together at the same time, talking to the U.S. entrepreneurs mostly from the Los Angeles area," says Steven Shen, Chairman of the non-government organization.
The event will be held April 28-30 at the Millennium Biltmore Hotel in Los Angeles. There will be four forums the summit will feature with different themes including, Radio, TV and Media, a China/U.S. Education forum, Investment in the United States and Financing forum, and a forum on Real Estate. After the Los Angeles event, Shen will take their 200 entrepreneurs to Las Vegas and New York for meeting sessions creating business opportunities from coast to coast.
Shen says, "I do expect that we have enough Chinese entrepreneurs ready to do some merging acquisitions and investment in the United States, especially in the areas of retirement communities, and education like boarding schools.''
EB-5 is a hot topic for Chinese investors and the China-US Business Summit is associated with EB-5 regional centers, recommending EB-5 projects for their investors. They are currently assisting investors with a project in Long Beach.
Shen founded the summit to help overcome some of the major challenges Chinese and American business owners face when trying to do business with each other. Cultural differences compound issues of trust between the two countries and often, Chinese investors don't know where to turn. Shen says, "The key thing to do business with China is to get to know each other, not just by sending business cards or emails. You have to talk to the person face-to-face. That is very, very important in China."
In addition to the major annual summit, China-US Business Summit hosts a variety of events throughout the year for Chinese investors visiting the U.S. Some of these events include golf tours, cocktail parties, business tours and seminars.