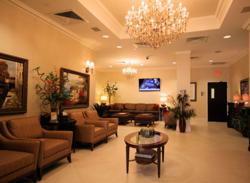 With this new facility, we're able to cater to a different clientele
Miami, FL (PRWEB) March 19, 2013
In response to being in high demand, Dr. Leonard M. Hochstein has moved his plastic surgery practice to a 9,000-square foot facility in North Miami. This state-of-the-art facility allows "The Boob God" to provide his patients with enhanced services and accommodations for the best surgical experience possible.
Built to standards of the Accreditation Association for Ambulatory Health Care (AAAHC), the highest achievable level of patient safety, Dr. Hochstein's new facility consists of two oversized operating rooms in addition to an overnight suite, which includes a five-bed recovery room and nurses to further tend to patients' needs. Sparing no expense, Dr. Hochstein's new facility also comes complete with a pristine VIP waiting area.
Dr. Hochstein's business manager, Michelle Heavens, was heavily involved in many aspects of the development with the new facility. She personally made it a point to ensure the practice was built to include a comforting environment with the highest safety regulations, while keeping the patient's perspective in mind. "With this new facility, we're able to cater to a different clientele," says Heavens.
In addition, Dr. Hochstein has brought in a new certified physician's assistant, Danielle Marese, who has a long record of accomplishments and personally administers facial fillers and injectable treatment. This includes the well-admired Radiesse® and Juvederm® XC, which smoothes out facial lines and eliminates wrinkles around the mouth, as well as Botox®, the world's most popular injectable designed to relax muscle movement. With a qualified PA now on staff, Dr. Hochstein can continue to efficiently provide plastic surgery patients with an unmatched attention-to-detail.
Widely known as "The Boob God," Dr. Hochstein has made appearances on various media outlets, such as E! Entertainment's High Price of Fame: Under the Knife, National Geographic's Botox, and Bravo's Miami Slice. While all of these television shows have helped attract new patients to his growing practice, it is The Real Housewives of Miami on Bravo that has brought Dr. Hochstein his latest influx of patients. Appearing as the plastic surgeon husband of Lisa Hochstein, he has noticed a particular increase of interest in the "Breast Augmentation with a lift and tummy tuck" known as the Mommy Makeover, which can return a woman's post-pregnancy body to her pre-pregnancy shape.
Dr. Hochstein is board certified by the American Board of Plastic Surgery (ABPS) and a member of the American Society of Plastic Surgery (ASPS). He has distinguished himself from other plastic surgeons by providing patients with naturally beautiful results through a variety of procedures for the face, breasts, and body.
To learn more about Dr. Hochstein's practice, please visit his website or call his new North Miami practice at (305) 931-3338.