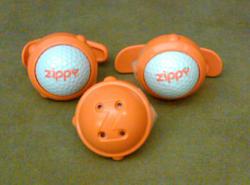 awesome!...
an excellent little device...
easy to carry...
simple to use...
very effective...
highly recommended...
to anyone...

excerpts from amazon product review
Phoenix, AZ (PRWEB) March 15, 2013
With the spring golf season hitting its peak, Zing Partners LLC announces Zippy Rolling Ball Therapy will be sponsoring and increased number of Dixon Challenge events at charity golf tournaments in Arizona, California, Georgia, and Florida.
Dixon Golf, a Tempe, AZ based company, created the Challenge to help non-profits increase revenue at charity golf tournaments. The Dixon Challenge, a fun Par-3 game, has been held at tournaments benefiting such well known causes as the American Cancer Society, the March of Dimes and many others, totaling more than 1500 charity tournaments throughout 2012. Search for "Dixon Challenge" on Facebook for pages from across the United States to see the scope of their local philanthropic efforts near you. http://www.dixonchallenge.com
Dixon, the world's only manufacturer of high performance, eco-friendly family of golf balls, also offers a golf ball recycling program through its retail locations that gives credit for returning old golf balls. From core to cover, from production to packaging, Dixon Golf is setting a new standard in environmental consciousness. Dixon Earth golf balls are distributed internationally and conform to USGA standards, with a PGA Tour Partner's 92% approval rating. For more information about Dixon Golf, please visit http://www.dixongolf.com
Zippy supports the Dixon Challenge philanthropic mission by sponsoring events across the USA. Dixon Challenge participants have an opportunity for a hands on test of the Zippy RBT golf ball massage device at each event.
Zing Partners LLC, based in Phoenix, AZ , manufactures and distributes the innovative Zippy massager for therapy, sport, and daily living. The durable, easy to use Zippy is the choice of athletes, personal users, and professional therapists to relax muscles, joints, knots, strains and sprains.
Zippy RBT devices come in three models: the Basic, the Rocker Handle, and the T-Handle. Zippy devices are compact and convenient to carry and use, readily accessible in golf bag, purse, pocket, glove box, nightstand, and sports bag. Please visit http://www.zippymassage.com for more information.
Zippy Rolling Ball Therapy devices have been submitted in the Core77 Design Awards competition for 2013. Watch our submission video. http://youtu.be/ajJWhzr1c5M
Zippy Rolling Ball Therapy massage devices are available online and on Amazon. View Video #1 on the Zippy RBT YouTube Channel. Visit Zippy RBT – Rolling Ball Therapy on Facebook and "Like." Follow @ZippyRBT on Twitter and Zippy RBT Zing Partners LLC on LinkedIn.