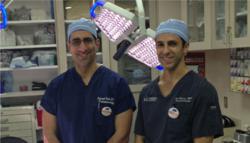 A good prep allows for a more effective procedure by letting your gastroenterologist and colorectal surgeon identify even the smallest polyp, and even the smallest polyp can be significant.
Beverly Hills, CA (PRWEB) March 15, 2013
This past weekend, fourteen doctors and nurses at La Peer Health Systems practiced what they preached by undergoing colonoscopy screenings for Colorectal Cancer Awareness Month.
"Many people hesitate to schedule this life-saving procedure because they fear the preparation process," said Ari Nowain, MD, a physician in La Peer's Gastroenterology Department and one of the two doctors who performed colonoscopies at the event. "The goal of Scopefest was to allow our doctors to practice what they preach, while showing people that a colonoscopy is a much easier procedure than many think."
According to Dr. Nowain, people should undergo a first colonoscopy at age 50. African Americans should begin testing at 45, and those with a family history of colon cancer should undergo colonoscopies ten years before a close relative was diagnosed. Anyone with colon cancer symptoms should not hesitate to schedule an evaluation. Despite these recommendations, many patients allow their anxieties about the colonoscopy preparation to prevent them from scheduling this lifesaving exam.
"A good prep allows for a more effective procedure by letting your gastroenterologist and colorectal surgeon identify even the smallest polyp, and even the smallest polyp can be significant," said Liza Capiendo, MD, a surgeon in La Peer's Department of General and Colorectal Surgery and one of the doctors who underwent a colonoscopy this past Saturday. "One of the aims of Scopefest was to show people that a bowel prep can be made to be an easier process."
In an attempt to lighten the mood surrounding colonoscopy prep, La Peer created Scopefest, a fun-spirited screening event spanning two days. On the evening of March 8, doctors and nurses attended a bowel preparation cocktail party at the Montage Hotel. A mixologist, Dr. Warren McKay (an anesthesiologist by day), created playful cocktails combining the standard Suprep bowel preparation drink with sparkling lemonade and other clear beverages. The next day, Dr. Nowain and Dr. Siamak Tabib, of the Gastroenterology Department, performed colonoscopies on all fourteen participants.
Diagnostic and preventative procedures, colonoscopies allow surgeons to detect polyps in the rectum and colon (otherwise known as the large intestine). Removing these potentially pre-cancerous tumors early may help prevent colon cancer from developing later. Some Scopefest participants underwent screening using the revolutionary new Third Eye® colonoscopy procedure. By providing doctors with a retrograde ("backward") view of the colon, the Third Eye® colonoscopy helps locate polyps hidden behind the folds and turns of the colon.
The evening following the screenings, participants attended a dinner and awards presentation at Via Alloro in Beverly Hills, where light-hearted awards were given in categories such as Best Prep, Biggest Polyp and Most Curvaceous Colon. Several media organizations and outlets, including My Fox LA and the journal Practical Gastroenterology, attended the event.
Along with lessening the anxiety surrounding colonoscopy preparation, the event served to remind people of the importance of being screened for colon cancer.
"Undergoing regular colonoscopies can help ensure that colon cancer is diagnosed early, when treatment is more effective," said Dr. Siamak Tabib, a gastroenterologist at La Peer and the other doctor performing the screenings. "Hopefully, with events like Scopefest, more people will remind their friends and loved ones to be screened for colon cancer. It could save a life."
Patients interested in scheduling a colonoscopy can feel free to contact La Peer by calling 310.360.9119. La Peer Health Systems is an outpatient surgery center in Beverly Hills, founded by doctors and focused on providing excellent patient care alongside the most cutting-edge medical treatments available. With 47 world-renowned physicians in 13 specialties, we offer comprehensive medical treatment that takes patients from consultation to diagnosis, treatment, surgery, and ultimately aftercare. Our 13 medical departments include orthopedics & sports medicine, gastroenterology, head & neck surgery, colorectal & general surgery, podiatry, ophthalmology, pain management, plastics & reconstructive surgery, gynecology, spine surgery, interventional cardiology, bariatric surgery, and anesthesiology. Unlike large hospitals, La Peer's unique structure offers extremely personal care in a safe and controlled environment.