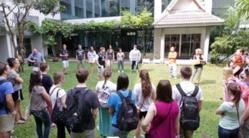 Lynchburg, Va. (PRWEB) March 14, 2013
While the majority of college students spend spring break catching up with family and friends and enjoying some much-needed relaxation, several Liberty University students sacrifice their break to serve others. This year, more than 100 students and nearly 20 leaders are participating in international mission trips to eight countries, aiding orphans and widows, hosting English camps, or sharing God's love with many who have never heard the Gospel.
Students are also active in ministry on the familiar shores of the U.S. Nearly 10 groups from Liberty's Department of Ministry Teams are on tour, using their talents in music, sports, and the arts to minister in churches, schools, conferences, and other events.
Light Ministries, part of Liberty's Center for Global Engagement, organized eight trips for spring break — Rwanda, Spain, Thailand, Bosnia, the Pacific Rim, the Philippines, Southeast Asia, and an undisclosed location in the Arab world.
"For decades Liberty has blanketed the globe with the Gospel and goodwill in the name of Jesus," said Johnnie Moore, Liberty's vice president in charge of the Center for Global Engagement. "This week, like that of so many spring breaks before it, the lives of thousands of people will be profoundly and forever changed because of the kindness and service of Liberty students. In some ways, this is the most unique part of our great university. At Liberty, you get an excellent education, but you also get a mission for life."
In Rwanda, Liberty is continuing its work with the Restore Rwanda campaign, helping the country heal in the aftermath of the 1994 genocide that claimed more than 800,000 lives. Team members are ministering to widows, building relationships and discipleship opportunities, and providing medical aid.
Thailand is a country devastated by the sex-trafficking industry and Liberty's team is ministering to both victims and at-risk orphans.
In Spain and the Pacific Rim, students are teaching English in camps and are participating in sports ministry.
Teams in Southeast Asia and the Philippines are hosting evangelism events, youth-focused ministries, and camps.
In Bosnia, students are helping with food distribution in the war-torn country.
In the U.S., Liberty's ministry teams have kicked off their spring tours, traveling all over the Midwest, South, and Eastern states, including Ohio, Maryland, New York, North Carolina, and Arkansas, using their talents at more than 40 venues.
Liberty's oldest ministry team, The King's Players, will be performing in western New York, using powerful drama to share the Gospel.
Music ministry is a staple of many of Liberty's ministry teams — Awaken, an all-female modern worship band; Exodus, Seventy One, and Light, modern worship bands; and Liberty's premier singing groups, Crimson Flood and the Sounds of Liberty — who are all currently traveling, using their musical talents to build relationships and minister at churches and conventions.
YouthQuest, which combines worship, drama, and discipleship teams to minister to youth, began the week in North Carolina and will conclude spring break by ministering at Parkway Baptist Church in Moseley, Va.
Perhaps the most unique of Liberty's ministry teams is Soar Dunk, a group of athletes who fuse basketball skill and trampoline acrobatics to put on a one-of-a-kind show. The team has already performed in front of a crowd of 3,000 this week and will continue its three-state tour of Virginia, Ohio, and Maryland with shows for church and Christian school groups. Soar Dunk also performs at public venues, where, although they are not allowed to share the Gospel, they talk about making wise choices and often have the chance to follow up with children after show.
"These teams of students are passionate about reaching people for Christ as they go into churches and high schools all across the country," said Hanna Bruce, director of ministry advancement. "They have an incredible opportunity to share their faith and explain how God has used their time at Liberty to grow them spiritually."
ABOUT LIBERTY UNIVERSITY:
Liberty University, located in Lynchburg, Va., is the world's largest Christian university. Nearly 100,000 students attend classes on its 6,800-acre residential campus and study in its thriving online education program.