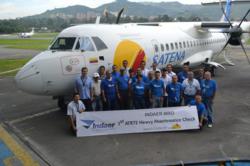 We are proud to receive the fleet from Satena. This contract shows the level of confidence and commitment that Satena has on the quality of the services provided by INDAER
Medellín,AN (PRWEB) March 15, 2013
MRO and technical services company Indaer recently celebrated the completion of its first heavy maintenance check on an ATR72-500 aircraft. The heavy check is part of the contract signed by Indaer and Satena to provide the technical services to its fleet.
"We are proud to receive the fleet from Satena. This contract shows the level of confidence and commitment that Satena has on the quality of the services provided by INDAER. We will dedicate the same efforts to delivering the next aircraft on time and within budget" states the Director of Technical services of Indaer, Daniel Restrepo.
Business Planning Manager of Indaer, Nicolas Ariza, also commented on the success of this particular Project: "It was undoubtedly difficult , but at the same time, gratifying challenge. Our success on this first ATR heavy check clearly demonstrates the technical expertise at Indaer, the strength of our supply chain; combined with a proper program management and the right IT tools for online and mobile, real-time reporting systems developed in-house."
About Indaer
Indaer was created in 2002 as a successor to ACES, a South American regional airline with a long and successful history of Airbus, Boeing and ATR operations. As a result of this, Indaer has a long technical and commercial relationship with ATR.
Today Indaer employs 70 full-time engineers, technicians and systems analysts who provide start-up and lease transition assistance; technical training; maintenance planning and oversight; in-service engineering; and field support for owners and lessors of Boeing, Airbus, Embraer, ATR and Bombardier aircraft.
Indaer also provides ATR 42 and Beechcraft King Air maintenance at its facilities in Medellin-Colombia and is currently adding more capabilities on other aircraft types.
More information availbale at http://www.indaer.aero
– 30 –
For more information:
Daniel Restrepo
Technical Services Director
Industrial Aeronáutica S.A. (Indaer)
drestrepo(at)indaer(dot)com
Office: +574-2664302 Ext.104