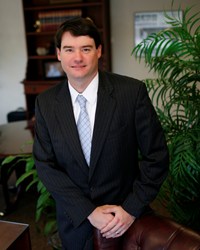 Ben's ability as a lawyer is very well documented, but I believe a lot of his success can be attributed to his ability to talk with anyone about anything."

Ken Hardison
Raleigh, North Carolina (PRWEB) March 19, 2013
For the fourth time in as many years, Ben Cochran has been named a Rising Star by North Carolina Super Lawyers magazine. Cochran, who is the managing partner of the North Carolina personal injury law firm of Hardison & Cochran, was also selected as a Super Lawyers Rising Star in 2010, 2011 and 2012.
To be named a Super Lawyers Rising Star, an attorney must be either 40 years old or younger or in practice for 10 years or less. Lawyers are selected to the Rising Stars list based on peer nominations and independent research. Candidates are evaluated according to 12 indicators of peer recognition and professional achievement.
No more than 2.5 percent of the lawyers in the state are named to the Rising Stars list, according to Super Lawyers magazine, which is distributed to attorneys and ABA-accredited law school libraries across the state.
Cochran was first licensed to practice law in North Carolina in 2002. He quickly made a name for himself representing North Carolina injured workers. His success in the workers' compensation field led to him earning the title of Board Certified Specialist in Workers' Compensation Law.
To this day, Cochran's case load is heavily weighted towards North Carolina workers' compensation cases, but he also personally handles very serious injury claims such as catastrophic auto accident, wrongful death and child care negligence cases.
"Ben's ability as a lawyer is very well documented, but I believe a lot of his success can be attributed to his ability to talk with anyone about anything," said Hardison & Cochran partner Ken Hardison. "He's very personable and is always willing to go the extra mile for our clients," Hardison added.
About Hardison & Cochran
Hardison & Cochran is a highly respected North Carolina personal injury, workers' compensation and Social Security disability law firm with offices in Raleigh, Durham, Greensboro, Fayetteville, Wilmington, Southern Pines and Dunn. The firm's practice areas include car accidents, trucking accidents, motorcycle accidents, boating accidents, dangerous drugs, defective medical devices, child care negligence and nursing home negligence. For more information, call the firm toll free at (800) 600-7969 or use the firm's online contact form. You can also follow the firm on Twitter, @lawyernc.