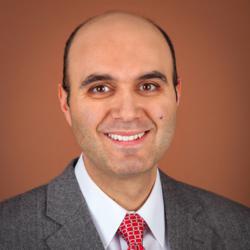 Downey, CA (PRWEB) March 14, 2013
The Oncology Institute of Hope and Innovation welcomes Dr. Youssef Gamal to their team of specialists.
A firm believer and advocate of whole-person care, Dr. Gamal was born in Cairo, Egypt and received his Doctor of Medicine with honors from Ain Shams University in Cairo before moving to the United States. He then completed his Internal Medicine residency at the Jersey Shore University Medical Center in Neptune, NJ before completing his Hematology and Medical Oncology fellowship at Penn State Milton S. Hershey Medical Center in Hershey, PA. Dr. Gamal's prior appointments included serving as an Assistant Professor of Clinical Medicine at MD Anderson Cancer Center in Houston, TX. In 2005, he moved to the west coast and served as the Attending Physician and Partner for the Division of Hematology and Medical Oncology at Beaver Medical Group in Redlands, CA where he was a co-investigator for multiple phase II and III clinical research trials before joining The Oncology Institute of Hope and Innovation.
Dr. Gamal has received numerous awards including "Polaris Recognition" and the "Orion Award" for outstanding patient care. He has also presented on topics such as Extranodal Marginal Zone Lymphomas of MALT-Type, Quinine-Induced Hemolytic-Uremic Syndrome, and Thrombotic Microangiopaties as well as co-authored a chapter about unusual lymphomas in "Blood Disorders in the Elderly" reference manual in 2008.
Dr. Gamal strives to deliver comprehensive and compassionate whole-person care with a personalized approach that meets the physical, emotional and spiritual needs of each patient. He achieves this through a multi-disciplinary approach of open communication and collaboration with surgeons, radiologists, radiation oncologists, pathologists and other members of the patient's care team. He places a high value on symptom management to maximize quality of life for each patient throughout all phases of his/her treatment journey. Dr. Gamal's motto, "There is always hope" is evident as he guides his patients every step of the way.
Dr. Gamal will be joining twelve other physicians on staff at The Oncology Institute of Hope and Innovation starting March 14th, 2013.
About The Oncology Institute:
The Oncology Institute of Hope and Innovation is committed to providing superior, compassionate and state-of-the-art medical care. Offering programs to help patients and families cope with the challenges that are brought on by cancer and strive to optimize their quality of life, comprehensive and realistic treatment goals are tailored to every person's unique needs and decided upon in partnership with the patients and their families. Dedicated to excel in cancer prevention, diagnosis and education through our exceptional team of physicians, nurse practitioners, nurses, medical assistants and office staff, The Oncology Institute of Hope and Innovation has 9 Southern California locations in the cities of Anaheim, Downey, Glendale, Long Beach, Lynwood, Montebello, Torrance, Santa Ana, and Whittier. For more information please visit http://www.theoncologyinstitute.com.