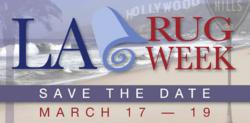 Our aim is to make LA one of the new centers of the rug world.
Beverly Hills, CA (PRWEB) March 15, 2013
Caravan Rug Corp's newly remodeled showroom in Beverly Hills will be among the main stops on the route for LA Rug Week, a unique "magical mystery tour" for rug buyers from all over the country. The show begins on Sunday, March 17, and will run through Tues., March 19. It will include visits to an estimated seventeen of the top rug showrooms in Los Angeles and Beverly Hills.
The prestigious SLS Hotel in Beverly Hills will host attendees, and also a gala cocktail party for attendees and exhibitors on Sunday evening. Rug buyers will be transported via a private shuttle bus to all seventeen showrooms approximately three times a day for the three days of the show: Sunday the 17th, Monday the 18th and Tuesday the 19th. Each participating exhibitor, including Caravan, will be rolling out their newest, most eye-catching and most extravagant creations in honor of the occasion.
This year marks the first annual presentation of LA Rug Week. The show will host a large group of serious rug buyers from outside of Southern California, in addition to many more from the LA, Orange County and San Diego areas.
Jay Nehouray, the general manager of Caravan Rug, says that Caravan will be unveiling a new collection of trend-setting contemporary area rugs that have just arrived from their manufacturing facilities in India and Nepal. "Caravan is very excited to be a part of LA Rug week. I believe it will be one of the our industry's most prestigious and anticipated events," says Nehouray, "and for this first event Caravan Rug is going all-out to make a big impact."
Caravan Rug Corp. (http://www.caravanrug.com) has been among the leading purveyors of handmade Oriental area rugs in the Los Angeles and Beverly Hills area for more than twenty years. "Among other things," says Mr. Nehouray, "our aim is to make LA one of the new centers of the rug world."
News provided by: TRIXMEDIA Online Marketing Team