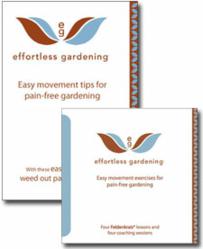 Longmont, CO (PRWEB) March 16, 2013
Miriam Levenson's new video and audio products for pain-free gardening are now available at the The Feldenkrais Store - just in time for fall gardening. As with summer gardening, many of the activities involved in fall gardening, from raking and pruning to harvesting and planting bulbs, can lead to pain, muscle strain, and injury. Most gardening pain, states Levenson, is caused by skeletal misalignment and the overwork of the muscles, tissues and joints of the body. Through "awareness and good movement habits" this discomfort, which most gardeners accept as the inevitable consequence of gardening, can be reversed.
In her Effortless Gardening audio and video, Levenson, a Guild Certified Feldenkrais Practitioner(cm), has developed a set of exercises and tips based upon the Feldenkrais Method® which are specifically designed to help the gardener avoid pain and injury. Using her suggestions and practices, the gardener can look forward to a worry-free harvest and preparation for winter.
Levinson's audio, available as CDs or MP3s, take the student through a series of Feldenkrais Lessons and coaching sessions created to enhance awareness and lead to a new ease of movement. "The topics include:

Finding and utilizing the hip joint for a greater range of movement.
How to avoid overusing the small muscles in the wrists and fingers by learning the connection between the hands and the torso.
How to release the tension carried in the spine, and how to spread the work of movement through all the vertebrae of the spine.
The role of the Sitz Bones in kneeling, sitting, and squatting.
How to counterbalance the head and hip for ease in squatting."
Each lesson is accompanied by a coaching session with suggestions for practical applications in the garden. The student is shown how to apply his or her new awareness and knowledge in such activities as pruning, planting, raking and pushing a wheel barrow.
In her video, available as a DVD or an MP4, Levinson explores the causes for the pain associated with different aspects of gardening, and demonstrates, in a very concrete way, how to avoid the factors leading to what she terms, "the pain equation." "In this video, the gardener will learn how to:
Protect the hands and wrists while pruning, digging and shoveling.
Avoid lower back pain while shoveling, or pushing a lawnmower or rototiller.
Avoid shoulder, arm, and neck stress while raking.
Relieve strain from the back, neck, shoulders and knees.
Use the body's center of gravity to generate force and lift capacity.
Avoid joint and muscle pain by spreading the work over the whole body."
While the audio and video complement each other, they each take a different approach and focus on different aspects of pain prevention through the Feldenkrais Method. All of Levenson's gardening products are available at the Feldenkrais Store, and are highly recommended for effortless, joyful, and pain-free gardening.