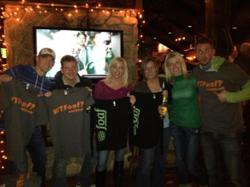 "What you have here is an EXCELLENT idea that combines the social networking that anyone under the age of 30 can't live without, with the idea that meeting people nowadays is just too hard!"
Chicago, IL (PRWEB) March 20, 2013
Ann Flood, CEO of MeetFOAF.com explains her mission, "Finding a match or making one through mutual, trusted friends is how human beings naturally interact and it works. FOAF simply provides the technologically convenient space where people can connect in a way that's tried and true. 68% of couples report meeting through a mutual connection, we use that as the basis for our site. And, non-single friends are finally brought into the online dating world serving as the essential and trusted matchmakers."
Catfish
Tired of the Russian roulette of online dating? Friend of a Friend or, FOAF, for short, avoids the catfish altogether. Users cannot find matches unless they have friends in their network. Who better to vet the profiles and keep people honest than someone's group of friends? Meetfoaf is a free service yet offers a rare gem in online dating: trust. No one can be matched on the site unless they are connected to people they know. Allowing completely anonymous users makes it far more likely that a user could end up with a Catfish -- or worse. We don't want to see that happen.
FOAF is about new connections being leveraged from existing ones. With a couple clicks, "Fixers" (non-single users) can easily suggest an intro with the "Break the Ice" feature in which two people are suggested by their mutual connection. "Mixers" (single users) can request intros or more info from their friends or use the "Float a Question" feature to learn more about a Mixer in whom they are interested.
Meetfoaf.com began in Minneapolis, MN and is now based in Chicago, IL. Ann Flood, CEO of FOAF and co-owner of a successful chain of driving schools for the last 18 years, believes that providing people a more trusted way to meet and introduce people, will solve a huge problem in online dating. Flood often quickly pitches the concept as the "Linked In for dating. You might not be looking for a connection for yourself but most people are happy to help their friends who are. There are some great rookie cupids out there, use them to find more trusted matches with less trial and error."
A site launch of the app (beta) took place in both cities on Valentine's Day. The hope is to get users to connect to others and make the site their own. We don't need to use exhaustive questionnaires and useless algorithms to try and program someone's future, FOAF wants the experience to be personalized, user friendly and, most of all, fun -- something online dating hasn't been in a long time.